What a morning at the Musagetes Five!
That's mew-SAH-guh-tees for all of you who have been cringing at your own pronunciation over the past few weeks. It's a popular trailhead of the Walter Bean Trail, in popularity if not actually by name. But that didn't stop over 150 runners from tackling the trail on a wet fall morning for a fun 5k!
The RIM Park trail is a unique section of the Walter Bean Trail, as it is one of the few sections that is paved, and enjoys elements such as the historic Elam Martin Farmhead and wetland areas. Now that the fall racing season is behind us, the Musagetes Five can be your late-season hard effort, a fun run with friends, or anything in between. The trail is a great place for a run, walk, cycle or even rollerblade, and a great place for a running event.
We avoided some heavier rains for a great run along the trails today. Congratulations to all runners, especially today's winners.
The race was fast, deep, and competitive, with less than 10 seconds between the top two men and women.
@RunWaterloo #musagetes5 winners!!!! pic.twitter.com/NFRq88VkXu

— Terry Edwards (@TerryEdwards519) November 25, 2017
Special kudos to Health + Performance for adding energy to this event with a school team challenge involving over 40 athletes. Congratulations to the victorious H+P/UW team!
Last race of the year for me… #Muse5km with @RunningRarebits ! Thx @RunWaterloo for your amazing race series and always grateful to @thedawsonclinic for getting me to the Finish line ♡ pic.twitter.com/G9r5yr0SrG

— Deirdre Large (@dela_2012) November 25, 2017
Run Pure + Simple, presented by Adventure Guide, one year on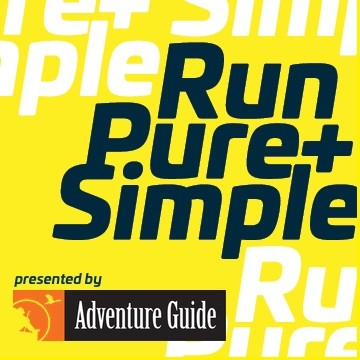 When we started this project in the spring of 2017, we weren't entirely sure what we were getting ourselves into. The idea was simple: offer a no-frills racing experience and see what happens, and of our many goals, two stood apart from the rest. First, to give the community a new, powerful rallying point, and second, to offer a no-barriers opportunity for all runners to get a fantastic event experience.
We took this idea to Adventure Guide because their guiding principles align perfectly with this project. They were eager to jump on board as presenting sponsor, and Discover Your Outdoors came to also describe exactly what we are doing with Run Pure + Simple. These three events were carefully designed to offer a variety of experiences (urban roads, rough trails and paved pathways) and of locales (Kitchener, Cambridge and Waterloo).
And so we added the three events, not to add redundancy but to complement an already busy schedule. Each event built on the last. The community element was strong right from the start, and by the third event we were already selling out. In total, over 300 runners ran in these events, evenly split between RW members and non-members, which is a fantastic measure of success for this project.
Let's take a quick look back at a great year! First, we took over Carl Zehr Square on a sunny summer Sunday morning for a pavement-pounding mile race.
We ran in three heats and had a blast as the GPS watches tried to keep up with the urban course.
Next, we stopped by the hidden jewel of Riverside Park in Cambridge for a rough and tough 5k.
The back trails are certainly of the less-traveled variety, which contributed to the sheer joy of off-road running.
Today was a perfect conclusion, on RIM Park's paved, puddly pathways.
We are happy to announce that all three events will be back in 2018, and we look forward to seeing you there!
Run Waterloo will announce our 2018 calendar and launch 2018 memberships over the coming weeks.