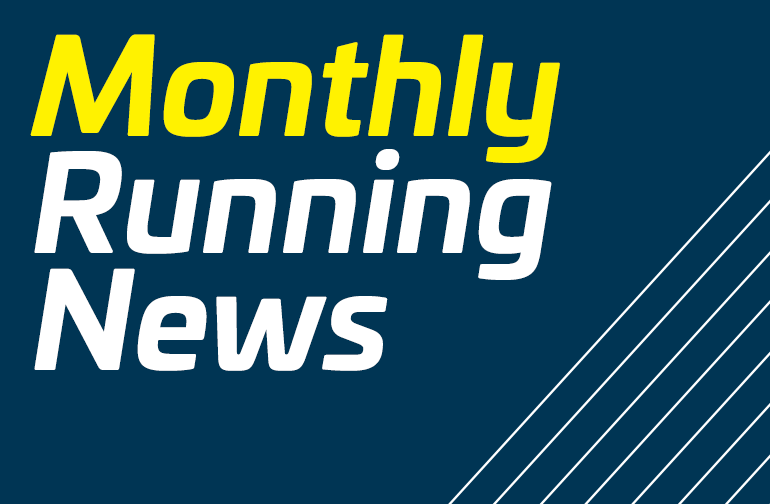 And just like that, the Summer Olympics are over for another four years. There were so many great stories and performances throughout the ten days of athletics that it simply cannot all be covered here, so I will content myself with the highlights.
Canadian Results
Canadian track and field athletes had a fantastic Olympics, on and off the podium.
Medals
Canadian athletes won six medals in Rio!
GOLD: Derek Drouin, high jump
SILVER: Andre De Grasse, 200m
BRONZE: Andre De Grasse, 100m
BRONZE: Akeem Haynes, Aaron Brown, Brendon Rodney and Andre De Grasse, 4x100m relay
BRONZE: Brianne Thiesen-Eaton, heptathlon
BRONZE: Damian Warner, decathlon
These six medals top Canada's haul in London (1 bronze) and Beijing (2 bronze).
Honourable mentions
Melissa Bishop, Mohammed Ahmed and Evan Dunfee each put in medal-worthy performances but finished fourth in their respective events (800m, 5000m and 50km race walk). Bishop reset the Canadian record for the third time in a year, with a time of 1:57.02. Dunfee also broke his own Canadian record.
Athletes with local connections
Nate Brannen of Cambridge, in his third Games, qualified for his first Olympic final. The race was incredibly slow, with an incredibly fast finish, and Brannen's positioning kept him from approaching the leaders in the final stretch. He finished 10th, less than 1.5 seconds behind the winner.
Competing in the marathon were three supporters of the Harvest Half Marathon in September: Lanni Marchant, Krista DuChene and Wesley Korir. Despite the surging and slowing, uneven pacing happening at the front of the field, Marchant and DuChene ran impressive races, moving steadily through the field to finish 24th and 35th respectively, out of 133 finishers.
In the men's marathon, Wesley Korir looked strong and was with the leaders until 30km, at which point he and teammate Stanley Biwott both started to suffer and eventually dropped out. Korir later stated that he and Biwott both experienced serious stomach issues due to mix ups at the Kenyan aid stations.
Other Canadian highlights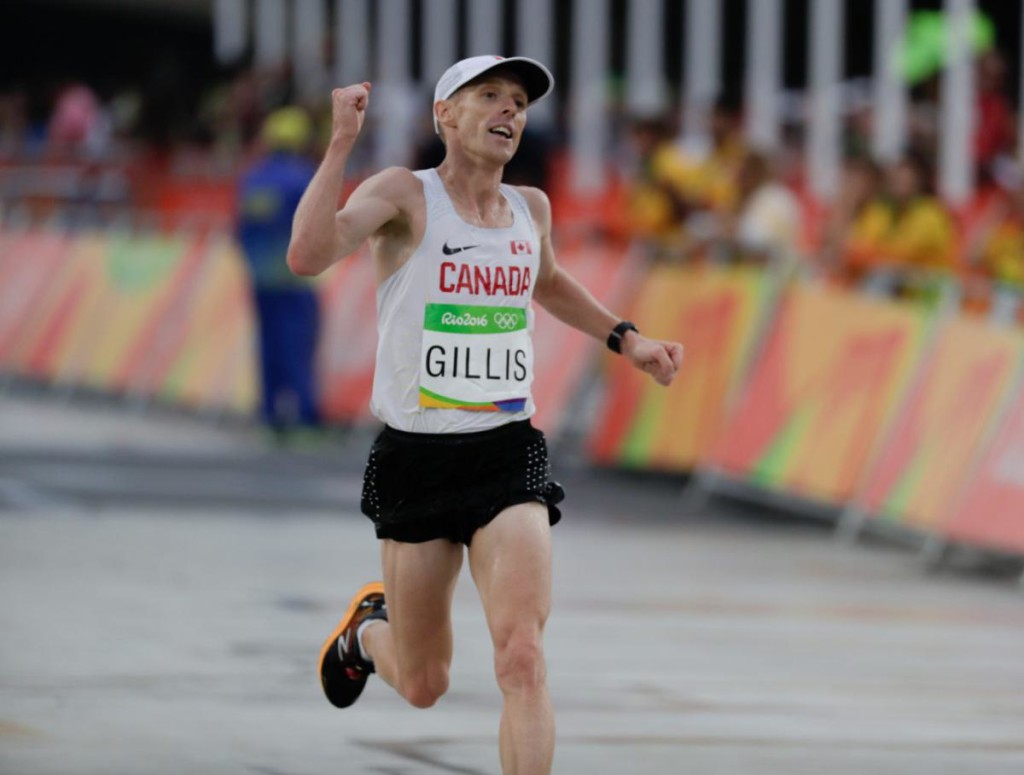 Finishing the men's marathon, Eric Gillis was 10th, the best performance by a Canadian since Jerome Drayton finished 6th in 1976. Both Gillis and teammate Reid Coolsaet improved upon their times and places from the 2012 Olympics.
In women's steeplechase, Genevieve Lalonde put in a brilliant performance in her heat to break the Canadian record for the second time this year, running 9:30, and qualified for the finals. She finished 16th.
Stories of Dominance
Usain Bolt
To the world's delight, but not surprise, Bolt pulled off the "triple-triple" by winning all three of the 100m, 200m and 4x100m in his third consecutive Olympics. Odds are he won't be back for Tokyo 2020, but he's only 30 years old and you never know…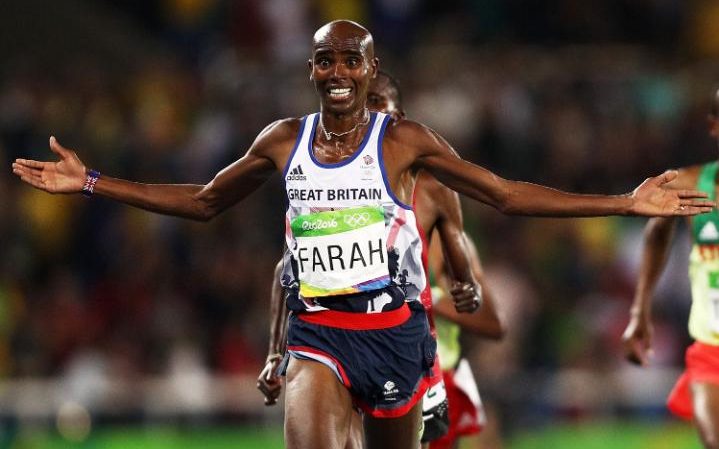 Mo Farah
Despite a fall in the 10,000m, Farah successfully defended his 2012 Olympic champion titles in both the 5000m and 10,000m, becoming only the second athlete to do so in the history of the modern Olympic Games (the first being the legendary Finn Lasse Viren in the 1970s). It seems no one can figure out how to beat Farah on the track, and he may not give them a chance, either, as he is expected to move up in distance and conclude his track career in the near future.
Ashton Eaton
Eaton also made history as he successfully defended his 2012 gold medal in decathlon, something only two other decathletes have ever done, and tied the Olympic record.
David Rudisha
The men's 800m final did not have quite the drama it did in 2012, when Rudisha dipped under 1:41 to break his own world record and led the field to three national records and seven personal bests (out of eight athletes); however, Rudisha proved that he is still the man to beat, with a very convincing gold medal performance.
Derek Drouin
As the reigning world champion from 2015, Drouin has consistently been at the top of the high jump game since the 2012 Olympics, and he delivered another incredible performance in Rio as the only athlete to clear 2.38m, with no misses, to bring home an Olympic gold.
Caster Semenya
Although Semenya was not defending a title, she has been incredibly dominant in the women's 800m since the IAAF reversed its ruling requiring her to take hormones to lower her testosterone levels. Her personal best, gold-medal run of 1:55.28 makes her the 11th fastest woman of all time.
USA Women's Hurdles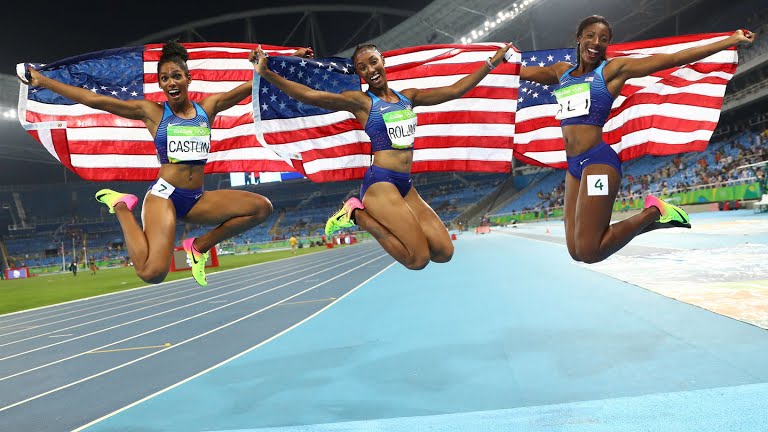 The 100m hurdles has been one of the strongest and most heavily contested events in Canadian track and field for well over a decade; however, no one can match the USA in this event right now. While the world record holder looked on (Keni Harrison failed to qualify at the US trials), teammates Brianna Rollins, Nia Ali and Kristi Castlin took gold, silver and bronze. This was the only podium sweep of the entire 2016 Games.
World Records
Three world records were broken in athletics events during the Olympics, as well as many Olympic records.
The first happened during the first medal event of the meet, the women's 10,000m. Almaz Ayana of Ethiopia took advantage of a quick pace set early by Alice Aprot Nawowuna of Kenya to go after the record of 29:31. This record, set in 1993 by Wang Junxia, has long been believed to be "dirty," and was confirmed to be so by Junxia herself earlier this year. Nawowuna led through the first 5k at 14:46, but shortly thereafter Ayana dropped the pace even further to run the final 5k in 14:30 and set a new world record of 29:17. Both of these 5k splits were faster than the 5000m winning time the following week. Three other finishers also ran faster than 30:00, making this the fastest and arguably greatest 10,000m race ever. Eight national records were set, along with 18 personal bests. Notable mentions to Molly Huddle, who stuck with the leaders far longer than anyone else and finished sixth with a new American record of 30:13; Alexi Pappas, who set a new Greek national record of 31:36; and Canadians Natasha Wodak and Marchant, who finished 22nd and 24th with season best performances of 31:53 and 32:04 respectively (Wodak set the Canadian record of 31:41 last year). There have been many questions raised as to the believability of Ayana's performance; this article provides good supporting arguments on both sides of the debate.
Two days later in the 400m final, South Africa's Wayde van Niekerk broke Michael Johnson's record with a blazing 43.03s. What made this even more impressive was the fact that he was running 'blind' in lane 8 and couldn't see any of his competitors. The next morning, Anita Wlodarczyk of Poland broke her own world record in hammer throw, with a throw of 82.29m. Wlodarczyk had four out of six attempts that were better than second place, to demonstrate her complete dominance in her sport.
Stories of Upsets
Genzebe Dibaba has had a tremendous two years, breaking multiple world records; however, her 2016 outdoor season was practically non-existent due to a toe injury. In June, her coach was arrested in Spain for possession of EPO and other banned substances. Needless to say, Dibaba had a less than ideal buildup to the Games. She looked very strong through the heats and semifinals, but mis-timed her finish in the final, and was outkicked by Faith Kipyegon of Kenya. Kipyegon has been dominant on the Diamond League circuit this year, and her victory is not a surprise in itself, but seeing Dibaba unable to respond in the final lap was unexpected.
Ayana had a similar experience in the 5000m final. After her world record on the first day of competition, there was great expectation that she would set another record here, especially since she has a personal best just one second slower than the record. Vivian Cheruiyot, second to Ayana in the 10,000m, made sure to stay in contact as Ayana made her move, and she and Kenyan teammate Hellen Obiri were rewarded with gold and silver, leaving Ayana to collect the bronze.
As defending pole jump world champion, Shawn Barber was considered one of Canada's most certain medals in Rio. Unfortunately he struggled through the final round of competition, and went out early, finishing tenth.
The track officials took a hard line on lane infringements, resulting in many disqualifications for athletes stepping inside of lane 1. While such rules are known and no one objects to them being enforced, in many cases these infringements occurred in places where the inside rail had been removed (either for steeplechasers or high jumpers) and replaced with cones. Mo Ahmed was initially disqualified on this basis, but was later reinstated. Others were not as fortunate: two-time Olympic champion in the men's steeplechase, Ezekiel Kemboi, finished in the bronze medal position, but was disqualified after a protest from the French team. Kemboi had announced his retirement immediately after the race, but has since retracted that decision and vows to collect gold at the 2017 world championships.
Stories of Sportsmanship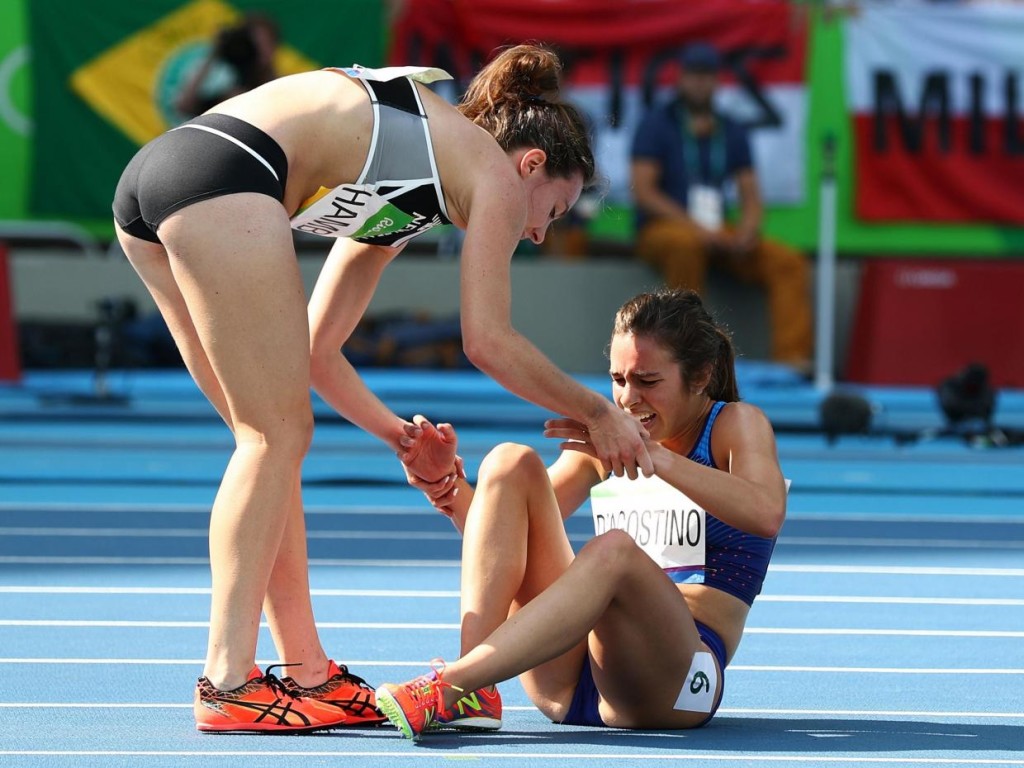 There are so many stories that could fit this title, but one stands out as the most obvious, and it comes from the second heat of the women's 5000m. American and New Zealand runners Abbey D'Agostino and Nikki Hamblin tangled and fell in the middle of their race. Instead of immediately trying to catch up with the pack, both women took the time to help each other up and make sure the other was okay. This action earned them both a place in the final, despite finishing well outside of the qualifying positions. D'Agostino sustained serious injuries to her knee such that she was unable to race; however, Hamblin did run and finished 17th. Both women were also awarded the Fair Play award for their displays of selflessness.
Another story that received a lot of attention involved Canada's own Dunfee in the men's 50km race walk. Dunfee was in medal contention for almost the entire race, and with less than 1km to go, as he tried to pass a competitor to take third place, there was physical contact between the two athletes which caused Dunfee to lose his rhythm and fall significantly off pace. Team Canada filed a protest, which resulted in the other athlete being disqualified; however, his team filed its own appeal, which was ultimately upheld and he was reinstated. Dunfee then had the opportunity to file a counter-appeal, but upon reflection decided it was unwarranted. His statement and his actions, both during and after the race, demonstrate the great respect Dunfee has for his competitors.
De Grasse and Bolt shared a great moment just before the finish line of their 200m semifinal race. Both were well ahead of the rest of the field, and Bolt was easing off in his usual manner, when he looked down and to his right to find De Grasse right next to him. His reaction and the ensuing laughs from both were one of the highlights of the games. De Grasse also delivered a new Canadian record of 19.78 seconds in this race.
The bromance continues. All smiles between Bolt and De Grasse as they cross the finish line #DeBolt https://t.co/vtHo2cGKHv

— CBC Olympics (@CBCOlympics) August 18, 2016
The Olympics is such a powerful brand for athletes and fans alike; however, there is so much more to the sport. The next Running News will conclude on the 2016 outdoor track season as well as the Paralympic Games which take place September 7-18.
Of course, you can still watch most if not all of the above performances at CBC.