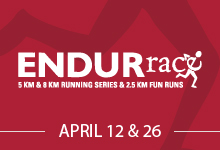 With Stage 1 of the Economical ENDURrace in the books, it's time to recover and get ready to hammer Stage 2. Here are some sure-fire ways to maximize your training, and ensure you are ready to perform on April 26th!
1. Don't over train. It will be very difficult make significant fitness gains in a two-week period. It is, however, quite easy to do too much. These next two weeks are NOT a good time to increase your overall mileage, or try to hammer full volume workouts. Resist the urge to do too much, and your legs will thank you on race day!
2. Don't under train. Avoiding doing too much unfortunately is not analogous to taking 2 weeks off! A great, scientifically proven rule of thumb is to maintain your normal frequency and intensity of runs with an overall decrease in volume of 50%. So, if you normally run 5x per week with 2 hard workouts, you still want to do this. The key is to cut all of these runs in half. Studies have shown that you can maintain and even improve fitness for well beyond 2 weeks with this strategy!
3. Do tune-up workouts. As stated above, even though we are reducing volume, we still want to make sure we run hard so that we don't detrain. A great sample half-volume workout to do 3 days before race day would be:
– 10-20mins warm up jog
– 8-10 x 1 minute repeats with 1 minute recovery
– 10mins cool down jog
Stick to these training strategies, and you will be taking a huge step toward racing at your best during Stage 2. Good luck!

Dr. Sean Delanghe is the head coach of Health & Performance, as well as a regular contributor to the RunWaterloo blog for Training & Performance.