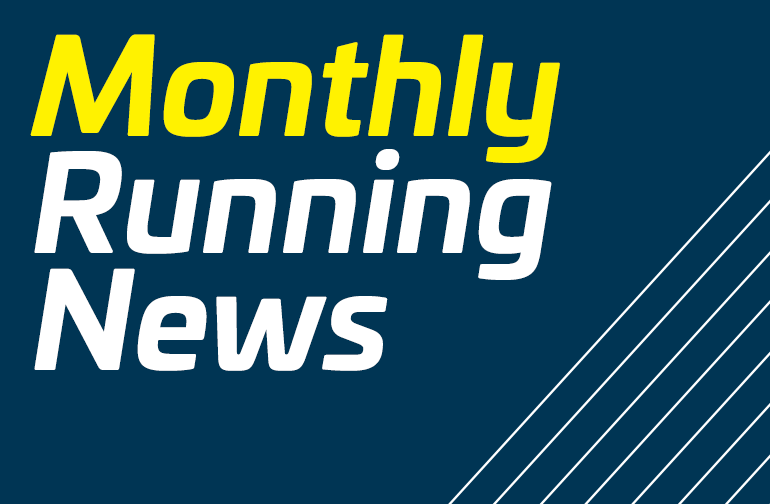 May is a busy month in the world of athletics, especially in an Olympic year. I've sifted through innumerable stories and put together this recap of exciting results from all levels of the sport, including two new Canadian records on the track.
Canadians Make Their Mark in the Big Leagues
There have been almost a dozen IAAF-sanctioned events in May, and multiple major track meets in the United States that draw elite-level competition from around the world. Few Canadians traveled abroad to participate in the international events, but our athletes have certainly made their presence known at meets held in the U.S. 
Payton Jordan
The Payton Jordan is a high quality track meet in California that has become legendary for producing the some of the fastest distance races of the year, especially in the 10,000m. While few Canadians achieved Olympic standards who had not already done so, collegiate athletes Justyn Knight and Gabriela Stafford finished less than three seconds slower than the standards for the 5000m and 1500m, respectively.
Hoka One One Middle Distance Classic
Two weeks later was another highly competitive field, also in California. Andrea Seccafien, who runs for Saucony Canada and trains out of Toronto, ran away from a strong field in the 5000m race to win and set a new personal best of 15:17.81, well within the Olympic standard of 15:24. In her latest blog, Seccafien discusses the secrets that helped her achieve this success. In the same race, Canadian 10,000m record holder Natasha Wodak ran 15:37, which was sufficient to prove her fitness for the 10,000m for Rio. In the men's steeplechase, Matt Hughes and Chris Winter both ran faster than the Olympic standard, as did Sheila Reid in the women's 1500m.
Prefontaine Classic & 42nd Hypo-Meeting
The third major track meet of the month in the US took place May 28-29. The highlight of the Prefontaine Classic was Mo Ahmed's third place finish in the 5000m event, shattering his own Canadian record by over 8 seconds. His time of 13:01.74 ranks him sixth in the world this year. Starting at ~14:00 in this video of the race Ahmed starts to make his move with 800m to go, and takes over the lead at the bell lap.
MO AHMED CANADIAN RECORD 13:01 pic.twitter.com/IpmDDCEyIB

— Prefontaine Classic (@nikepreclassic) May 28, 2016
Steeplechaser Genevieve Lalonde, originally from New Brunswick but who trains with Speed River in Guelph, also set a new Canadian record in her event. Other top Canadian performers were world champion pole vaulter Shawn Barber, second place, and Reid, ninth in the 1500m with a season's best performance of 4:03.96 – well under the Olympic standard of 4:07.
At same time at the 42nd Hypo-Meeting in Gotzis, Austria, a combined-events meet, Brianne Thiesen-Eaton and Damian Warner both came away with wins, and world leading scores, in the heptathlon and decathlon respectively.
Canadian Championships and Olympic Standard Attempts
At home, May also brought the Canadian 10K Championships, held in Ottawa, and the Half Marathon Championships, in Calgary. Athletes were forced to choose between the two titles, as the events were held on the same weekend. Given Ottawa Race Weekend's reputation for hosting amazing races, and the 10K's status as an IAAF Gold Label event (there are only four 10K events in the world with this status), it's not surprising that more of Canada's top athletes chose the 10K this month.
Ottawa 10K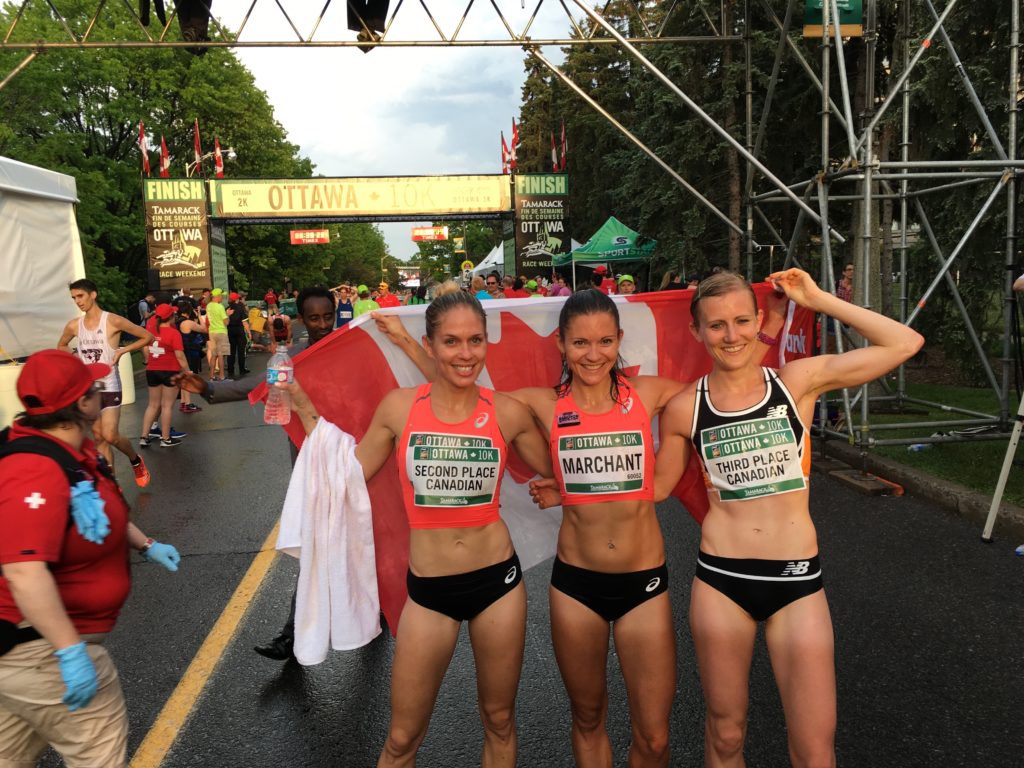 In addition to being the national championships, the 10K in Ottawa also attracts a strong field of international competitors. The women were given a 3:15 headstart over the men, with the first overall finisher, man or woman, collecting an extra bonus. The female winner, Kenyan Peres Jepchirchir, ran away from the field to win in dramatic fashion and earned this bonus as well. Top Canadians were Lanni Marchant (fourth overall), Wodak (sixth) and Rachel Hannah (seventh) – no surprises there. Marchant has qualified for the Olympics in both the 10,000m and the marathon, and she is considering competing in both disciplines, despite the fact that they are just two days apart. The Athletics team will be officially announced on July 11.
The men's race also provided an exciting finish for spectators, with a three-way sprint for the win and Mohammed Ziani of Morocco and Yitayal Atnafu of Ethiopia finishing just four-tenths of a second apart. Top Canadians were Reid Coolsaet, Kevin Friesen of Vancouver and Pier-Olivier Laflamme of Ancienne-Lorette.
Calgary Half Marathon
Out west, the half marathon championship was primarily contested by athletes from the western provinces. However, there were some Ontario-based competitors in the mix. The men's race was won by Thomas Toth, who is from Ontario but now resides in the U.S. He was followed by Toronto's Sami Jibril and Terence Attema, who resides in BC. The women's race was won by Emily Setlack, with Olympic hopeful (likely) Krista DuChene following in second and local Maria Zambrano in third.
Ottawa Marathon – last bid for an Olympic berth
The Ottawa Race Weekend, which sees participation in the range of 50,000, includes a marathon. This year, the Ottawa Marathon was the last opportunity for Canadians to meet the Olympic qualifying standard, attempted by three athletes: Tarah Korir of Waterloo Region, Leslie Sexton from London, and Kip Kangogo of Lethbridge. Korir was paced in her efforts by her husband, Boston marathon winner Wesley Korir who was recently named to the Kenyan Olympic team. A terrific performance, with a new personal best of 2:35:45, left Korir six minutes slow of the Canadian Olympic standard, but the first Canadian woman to finish and looking to have a bright future in the event. Sexton had a difficult race and was forced to withdraw at the halfway point. Kangogo also struggled with the heat and problems with his pacer, leaving him many minutes slow of the standard as well.
This means that Canada will most likely send four athletes to the Olympics for the marathon this summer: Coolsaet, Eric Gillis, DuChene and Marchant. I expect this to be announced soon.
Race Walking
In an event that receives less attention, the Canadian men won team silver at the world race walking championships in Rome on May 8, with Benjamin Thorne, the bronze medalist from last summer's world championships, finishing fifth, Inaki Gomez seventh and Evan Dunfee sixteenth.
International Athletes & Other Stories
American 800m runner and world indoor champion Boris Berian was served with a lawsuit by Nike at the Hoka meet, related to his contract with them, which expired on December 31, 2015.
At the Prefontaine Classic, 2012 double-Olympic champion Mo Farah of Great Britain also ran a blistering 26:53 in the 10,000m, ranking him first in the world this year, showing he is in fine form to attempt a repeat performance this summer in Rio.
Also this past weekend, American Kara Goucher, former Olympian who finished fourth at the US Olympic Marathon Trials in February, announced that should will no longer be attempting to qualify for the Olympics in a shorter distance, but instead will focus on a fall marathon.
Alexi Pappas, a popular young elite athlete has garnered significant media attention this past month, including a feature article in the New York Times. Pappas lives and trains in Eugene, Oregon and announced earlier this year that she will run for Greece. She then proceeded to qualify for the Olympics and set a new national record in the 10,000m at the Payton Jordan meet. On top of that, she is also premiering her film, Tracktown, at the Los Angeles Film Festival at the beginning of June.
Trio in Rio: Estonia will be sending a team of triplets to contest the Olympic marathon this summer. Leila, Liina and Lily Luik will be the first set of triplets to compete in the same event at an Olympic Games, and are hoping to finish together.
Race Walking: Bringing Down Gender Barriers: Another exciting moment in the world of race walking this month involved the breaking down of gender barriers: for the first time, women were permitted to compete in 50km race walking events (previously the longest race for women was 20km). For the time being, the 50km will be a gender blind event, so men and women will compete against each other. American Erin Taylor-Talcott was the first woman to contest the 50km distance at the world championships, finishing in a time of 4:51:08.
The next month's issue of Running News will continue to follow the pursuits of Canada's top athletes, including those in the U.S. collegiate system such as Kitchener's Ben Flanagan, who qualified for the NCAA championships 10,000m race. It will also follow superstar Genzebe Dibaba in her bid to break two world records in one week.