For May's Member Spotlight, we're profiling the irreplaceable Nur Andi Setiabudi. Nur lived here for less than two years, but gave us so much. We caught up with him by email from his home in Indonesia.
Tell us about your time in Waterloo.
My family and I have been in Waterloo since the summer of 2018. At that time, my wife got a scholarship to study at UWaterloo. Initially, only my wife would move to Waterloo, while I and our children remained in Indonesia. Anyway, we are a small family with two sons. They are 6 years and 2 years old respectively. But we changed our minds, and the whole family finally moved.
At Waterloo we shared roles. My top priority duty was taking care of the children. It was my most challenging, yet sometimes depressing role in my life. Trust me, it was difficult, especially with the toddler. And Google didn't always have the answers. Lol.
In the first few months, I was still working "full-time" to a company in Indonesia. The company allowed me to work remotely from Waterloo. Typically, I start working at 9 or 10 pm, adapting Indonesian' time that is 11-12 hours (GMT+7) ahead of Waterloo time (GMT-5). I felt exhausted, then in early January 2019 I quit and chose more time-flexible job.
And, I forget to mention that I am running in my spare time. That's not my job, but part of my soul. When I was fit, I ran about 5-6 times a week. Total up to 7 hours.
How much did you like it here? What were your favourite things?
From the first week, I have learned that Waterloo (including Kitchener) has good trail system. It is runner friendly. With cooler temperature (even in the summer), I can run almost everywhere in the Region – from downtown to uptown to rural area, from unpaved trail to side walk. I thought I was in running "heaven." I once had the desire to run in all cities and townships in the region, but did not complete it before I left Waterloo.
My first exposure to RW community was at the 2018 Harvest Half 2018 in Wellesley. Coincidentally, I met an Indonesian who had already been involved in the RW community. Yes, he is Reza! He encouraged me to join RW membership. In winter 2019, I officially joined the RW membership and by the end of the year, I was 10th in RW boost demographic placing. Yay! I honestly like the program. It is great benefit for RW members, especially for those who love race often.
The thing I most love about RW is the community and support. I am not a fast runner and relatively new to running. But I always had good time in every RW event. In addition, RW has regularly scheduled races almost every month. It made it easier for me to set the training season and choose some races that supported my "A race" or simply for level fitness testing.
I also joined local running club H+P in spring 2019. I thought that H+P was only for fast runners because at every RW race, their finish times were amazing. Honestly, I felt not confident enough, until I met Coach Sean at his clinic and he convinced me that H+P was open to all ability. Joining H+P was the right decision. I met new friends and I keep progressing. For me, RW and H+P is the best combo for my running career.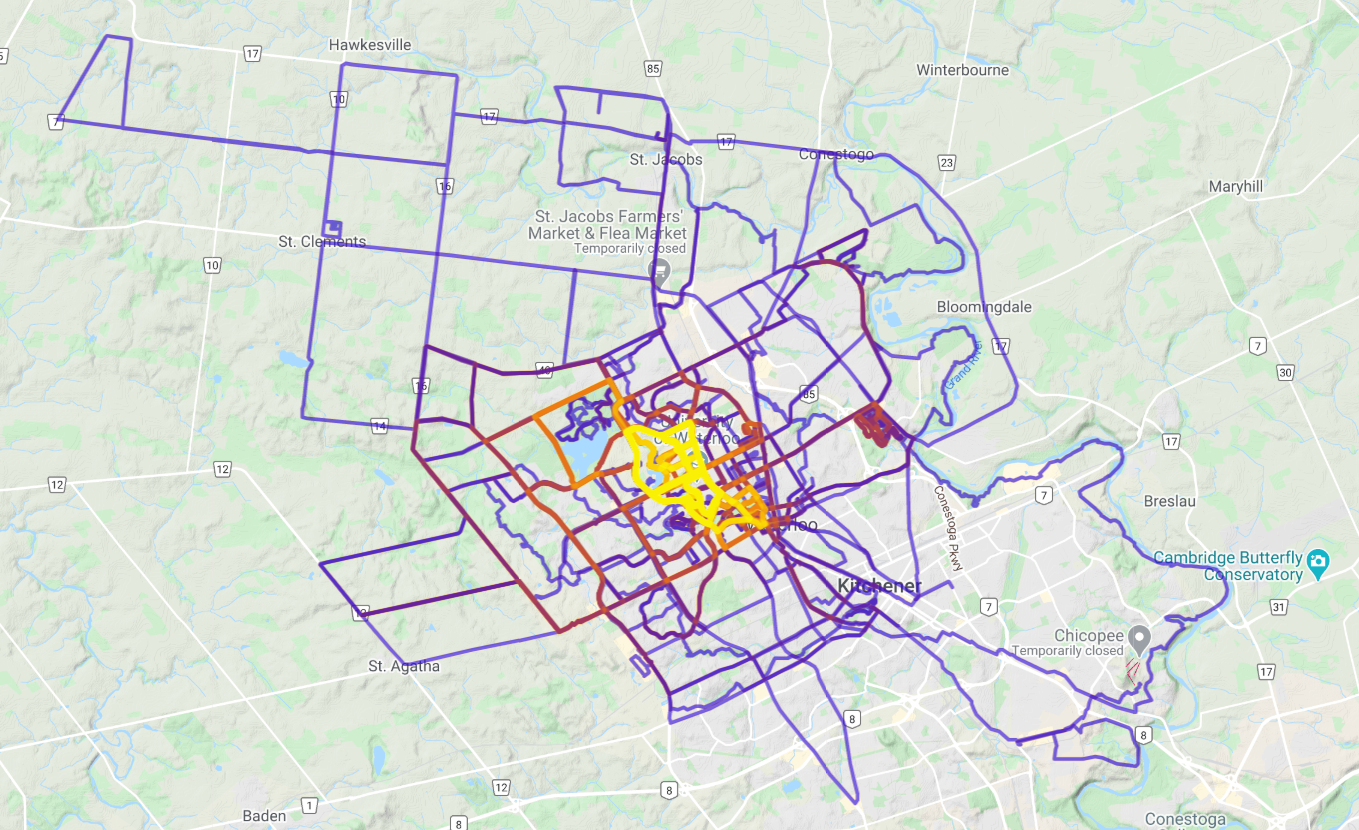 What's it like moving during COVID?
That is a long story.
My wife finished her study in the winter term of 2020. We were supposed to return home to Indonesia at the end of April and flight tickets were already reserved. However, COVID-19 slightly changed our original plan. With the flight canceled, we extended our stay in Waterloo by one month while looking for another flight.
In this COVID-19 situation, I knew our journey home would be complicated. We cannot fly our favorite route Toronto-Taiwan-Jakarta since Taiwan banned all transit travelers. Lucky for us, we got an alternative via Amsterdam in May. Once we got the tickets, we were happy but on the other side we could not stop worrying: what if we were asymptomatic and transmitted the virus to others or what if we, especially our children, contracted the virus. Flying home was a long haul, total 24 hours including a 4 hour layover.
As an additional measure against the virus in Indonesia, our government required all passengers coming to Indonesia (including Indonesian citizens) to have tested negative for COVID-19 in the origin country, otherwise they will send us to government's facility for testing and stay there days or weeks until the result were available. Considering we have children, we took the COVID-19 test in a clinic in Waterloo 6 days before our flight. Unfortunately, the test result was not available in time. Hence, when we landed in Jakarta, we weren't then heading home. We were herded onto a bus that took us to former ASIAN Games' apartment that had been converted into a testing and quarantine facility. We got COVID-19 test there, stay there, and in the next 2 days the results ware out. Thank God! We were negative so we could start our two weeks in home quarantine.
The airport and plane had never been stranger. The airport was so quiet, there are only few people and most of the facilities including stores were closed. Everyone wears face mask and many of them wear latex gloves. Announcements to physical distancing and washing hands almost every minute, more often than flight announcements. The hardest part was wearing masks during the flight – especially for children. They were not comfortable. While transit in Amsterdam, some of the passengers wore full-body protective suits, plastic face shields, goggles and gloves.
We are grateful to finally be able to return home in Bogor, a small town south of Jakarta. This was a valuable experience that not everyone has experienced.
Will we ever see you again?
I always think of going back to Canada especially Waterloo. I've been missing since day one: the city, its people and community and of course the weather! I was struggling in the Winter but I survived and enjoyed it!
Can you talk about Indonesia and running there?
Indonesia is the largest archipelago in the world. Indonesia has more than 17,000 tropical islands, of which only few are inhabited. Kalimantan, Java, Sulawesi, Sumatra and Papua are the main islands in Indonesia. In addition, Indonesia also has small islands such as Bali and Lombok which are both local and international tourist destinations. The national capital of Indonesia is Jakarta, which is located on the island of Java.
Indonesia is a wonderland. It is located in equator. It has hundreds of volcanoes, long beaches, colorful reefs and undersea life, and exotic culture. Don't forget we the heaviest lizards on Earth Komodo dragon and Borobudur temple. You can visit Indonesia all year long, but the best time is between May to September when the days are dry and sunny.
The running culture in Indonesia has been growing in the last few years. Almost every city and town has running community/club. The biggest club is IndoRunners with more than 40K members. IndoRunners' vision is not to gather as many members as possible, but rather to become a movement to spread the running culture across all levels of Indonesian society.
There are races almost every week in Indonesia, including road, trail, and ultra. Some anticipated races are Jakarta Marathon, Borobudur Marathon, Bali Marathon (IAAF/World Athletics bronze label), Jogja Marathon, Bandung Marathon, Tahura Trail race, Mantra Summit Challenge Trail 116K, Bromo-Tengger-Semeru Ultra Trail 170K, Gede Pangrango Ultra Trail 120K, Bandung Ultra 160K, Tambora Challenge 320K.
Any favorite or fun memories?
Most favorite memory was when spending time with family in very different conditions than we have in Indonesia. We love to go outdoors, walk around neighborhood and visit Waterloo Park during snow. My kiddos are exited when it snows!
I also love routine training with H+P, especially the Thursday session in Hagey loop. That is like my "home of champion". If I have opportunity to go back to Waterloo, Hagey will be my first route to run at. I will never forget RW races, especially Fall Classic (first time to run sub 25 minutes 5K) and Laurier Loop (fist time sub 50 minutes 10K). And ah.. too many memories. Weekend solo long run in Wilmot line, to St. Clement, St. Jacobs, Grand River Trails for contemplation. I love it.
We miss you already, but we miss everyone right now! Thanks for sharing this Nur!