The 2018 ENDURrace will thaw … into double-header on Saturday April 21!
Both cancelled events from April 14 (5 KM and 2.5 KM) are rescheduled for April 21 at 4:00 p.m. There are no changes to the originally scheduled events on April 21 (8 KM and 2.5 KM) at 6:00 p.m.
Combined is back on – runners will have between 60 – 100 minutes between the events.
All 5 KM runners have a rescheduled date and time.
Registration is re-opened for the 5 KM and for the Combined.

Runners registered for the 8 KM only can upgrade to the Combined for $15 at any kit pickup before the 5k.

Kit pickup is also rescheduled.

April 20 at Runners' Choice from 5:00 – 7:00
April 21 at Lion's Hall from 2:00 – 3:30 and from 5:00 – 5:30
If you were registered for the 5 KM but can't make the 4 p.m. time, the only option is to switch to the 8 KM or 2.5 KM at 6:00 p.m. at no additional charge. We hope you join us!
A unique ENDURrace challenge
The challenge that ENDURrace presents to participants is how to attack a mini-series of races. We have at times considered changes to the format – perhaps a back-to-back Friday/Saturday. (In 2014, we had two weeks of separation.) This new schedule will finally give us the unintentional opportunity for something new – the double-header.
Compared to the 16 year history of this event, the 2018 edition will resemble something closer to new trends like Dopey Challenge. Will runners like it? We'll find out on Saturday!
Thank you for your support
First, huge thanks to the Township of Woolwich for accommodating this contingency request. And also to some of our partners like Chiptime Results and Waterloo Regional REACT for supporting this decision and pulling double-duty this upcoming week.
But thank you also to you – for the incredible feedback on this decision. For us, these were uncharted waters, and the comments of support were at times overwhelming. We are confident that the cancellation was in the best interest of the participants and volunteers, and we are thrilled to be able to offer this rescheduling.
On our event cancellation policy
Simply speaking, event cancellation is incredibly unlikely. April 14, 2018 was the first time we had cancelled an event in 30 years and over 350 events. This is grounded in a sincere belief in and commitment to our mission of inspiring community through running.
However, this was a bit of a wake-up call for us: we live in a world with increased threats of severe weather, which could make future cancellations more likely. We aren't scared by bad weather, but severe warnings that jeopardize participant safety are also of paramount importance.
The standard for events like this is for a strict cancellation, without refund. That is all we can and will promise. This was a great outcome; a future race cancellation might not have this same opportunity for a rescheduling, after checking with the proper authorities. But you can trust that we will always look for the best outcome.
This upcoming Saturday
We're back in business! And looking forward to some sun!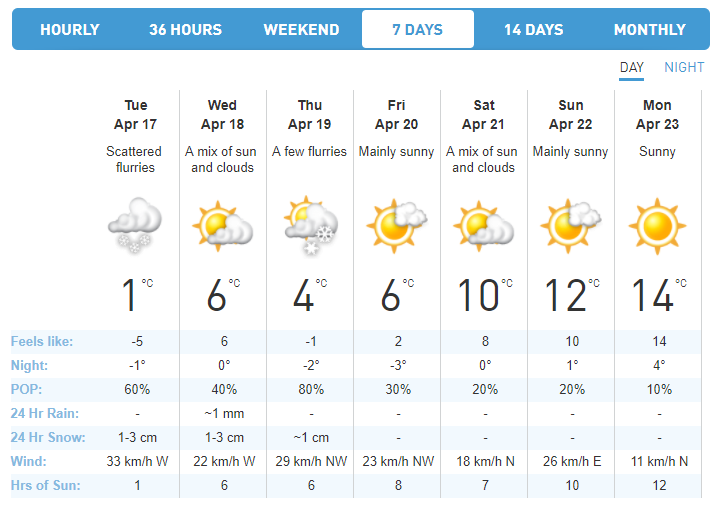 Although the race t-shirts will still say "April 14st & 21st"…