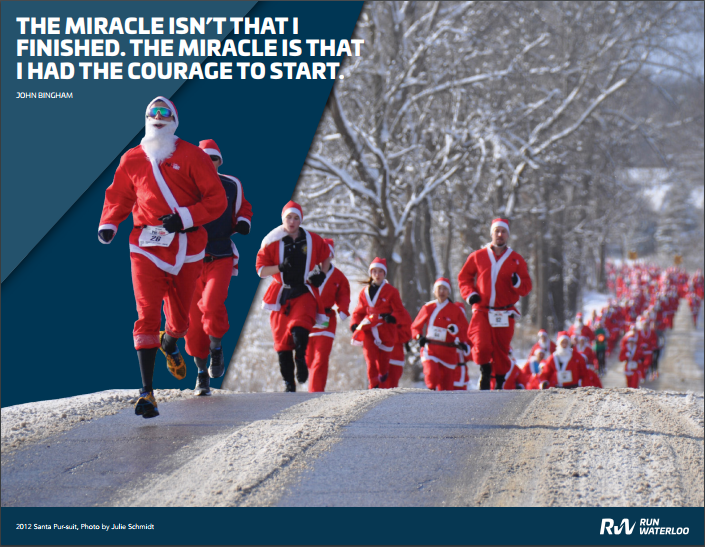 We're excited to confirm our race schedule for 2018. Save the following dates, but stay tuned for a few more major announcements to our schedule!
Signup for 2018 memberships opened on Monday, December 11, and registration for these events will open on January 1, 2018.
2018 Run Waterloo Race Schedule
Re-Fridgee-Eighter, February 11
Laurier Loop, March 11
Pancake Mile, April 7
Economical ENDURrace, April 14 & 21
Mystery event, May 12 (Run4Another)
Baden Races, May 19 (including Sprint Duathlon)
In Running Colour, May 26
Mystery event, May 27 (Rotary Classic Superhero Run)
Waterloo 10 KM Classic, June 17
Mystery event, July 7 (To Be Announced)
Downtown Kitchener Mile, July 29
ENDURrun, August 12-19
The Runway, August 24
Kitchener Kids with Cancer Run & Walk, September 9
Harvest Half Marathon, September 15
Riverside Roughly Five, October 6
Fall 5 KM Classic, October 14
RememberRun, November 10
Santa Pur-suit, November 17
Musagetes Five, December 1
But this list of dates is pretty boring, right? Shouldn't there be some beautiful way to display dates in some non-list way?
2018 Monthly Calendars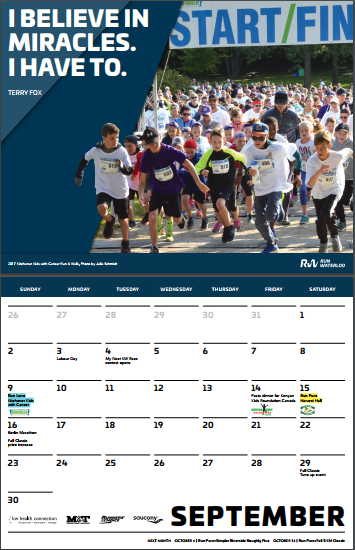 In October, we launched a contest to celebrate our race photography. Over the decades, we have taken hundreds of thousands of race photos, and decided once our Flickr account hit 100,000 photos, it was time to celebrate.
We took your suggestions and put some of our favourite photos into a monthly 2018 calendar, which includes all of these race dates.
Check out the sneak peek – RW Calendar 2018 promo [PDF, 2 MB].
These calendars are free to all 2017 RW member households, and you can pick yours up at Runners' Choice starting on Monday, December 11. (They will also be available at the Santa Pur-suit this weekend).