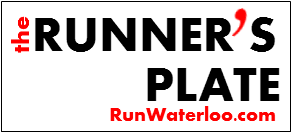 Most days, I don't think too much about food while I'm out on my morning run. This is especially true this month, where my attention is usually directed at watching the winter Olympics while I get my treadmill miles in at the gym. Having said that, it doesn't take long for my appetite to kick in after I finish.
In order for our muscles to recover as efficiently as possible, it's important to aim to refuel with a good mixture of quality carbohydrates and protein within an hour of completing your workout. There are he
aps of great options out there, but one of my current favourites when it comes to a post-run breakfast are these Chocolate Banana Protein Waffles. They're quick and easy to make, but can also be prepared in large batches and stored in the freezer for busier mornings, or times when you need a healthy grab-and-go snack. And let's face it: Having healthy, delicious waffles waiting might just be enough to motivate you to run that last mile a little faster!
Chocolate Banana Protein Waffles
by Angela Simpson
Prep Time: 5 mins
Cook Time: 10 mins
Ingredients (2 waffles)
1/2 cup egg whites
1/2 cup mashed banana
1/2 cup oat flour
1 scoop chocolate whey protein powder
1 tsp pure vanilla extract
1/2 tsp cinnamon
2 packets stevia
1/4 tsp baking powder
2 tbsp almond milk or water
Optional toppings: walnuts, sliced bananas, and cinnamon
Instructions
Combine all ingredients in a blender and blend until a smooth batter forms.
Heat your waffle maker and spray the plates with oil to prevent sticking.
Pour some of the batter into the bottom plates of the waffle maker and close the lid. Cook according to the directions of your waffle maker.
Repeat with the remaining batter.
Serve waffles topped with sliced bananas, walnuts, and cinnamon.
Note: If you have a little bit of batter left over, drizzle it over the waffles along with the toppings.
***
Angela Simpson is a certified Health Coach, blogger at Eat Spin Run Repeat, and regular nutrition contributor to the Run Waterloo blog.