The 2018 year in Run Waterloo closed on a high note with our final race: Musagetes 5k.
This is a windy paved section of the Grand River Trail, which is a perfect location for a late-season effort. Congratulations to all runners who took part. Winners:
As part of our Run Pure + Simple series, this race and two others have become great community building events. Free to Run Waterloo members, and $10 to the public, they are fun and quality events without the bells and whistles.
Hundreds more photos will be posted this week, but until then, enjoy this teaser album.

Run Pure + Simple in review
Two years in, what do you think about Run Pure + Simple so far? The right events, distances, locations, time of year? Let us know in the comments!
RW Boost
This was the conclusion to our year-long member competition. Runners spent the better part of 11 months planning and executing the strategy of participation and racing, all to rise to the top and maintain their place in RW Boost.
And the bragging rights belong to …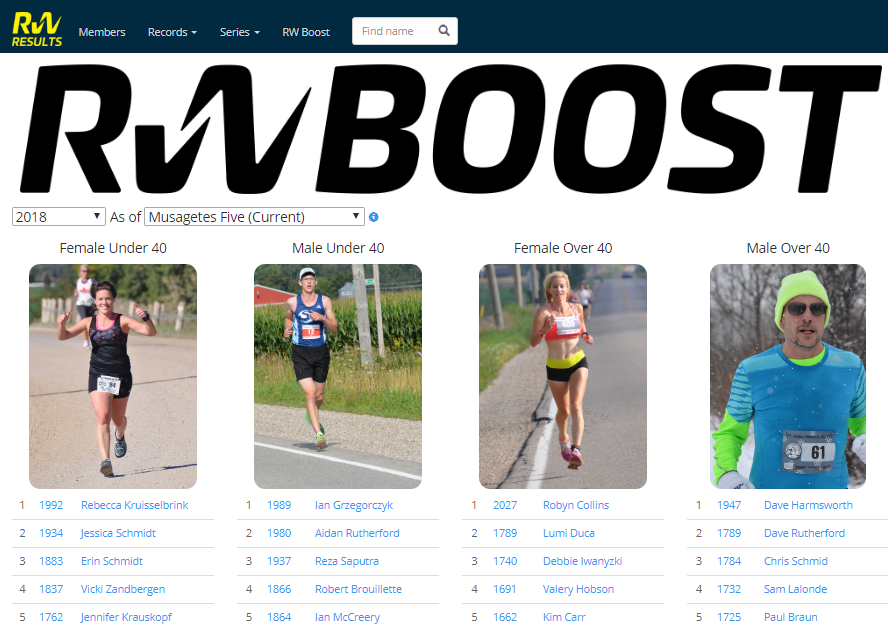 Thank you to every member who made this such a fun and captivating competition. We want to know what you thought… we aren't expecting to change too many of the rules, but the prizing is completely up in the air again for 2019. Leave us your thoughts!
Stay tuned for a deeper recap of the Boost year, and for the winners, prizes are coming your way!