In our 2018 calendar, you might have noticed some Mystery Events. These are being revealed over the course of the winter and spring. Here's the first such announcement.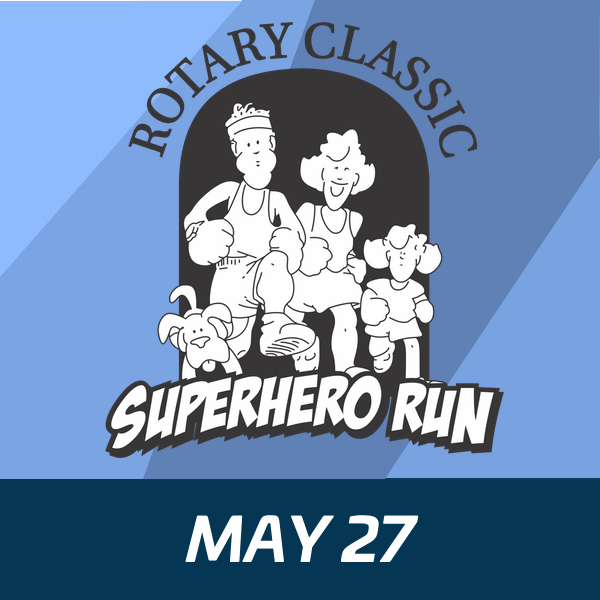 Run Waterloo is ecstatic to announce our newest partnership with the Rotary Classic Superhero Run!
This event has been a staple of the community for 32 years and counting. The largest running event in the City of Cambridge is a top-notch event, is fun for the whole family, and is an tremendous annual fundraiser for KidsAbility.
We got a chance to talk with Kristen Danson, local runner and chair of the Rotary Classic Superhero Run about the event and the partnership.
Run Waterloo: When and why was the event founded?
Kristen Danson: This event was founded in 1987 as a project for the 3 Rotary Clubs of Cambridge to work together on to raise funds for KidsAbility.
RW: What initiated the partnership with Run Waterloo?
KD: A desire to connect more with the running community.  We want to create an event which will raise more funds for KidsAbility moving forward.  In order to achieve this, we want to increase our community of support.  Also, we want to tap into the expertise of Lloyd and Jordan to ensure that our event is operated in a professional, fun and organized manner for all that take part.
RW: What does this event mean to KidsAbility?
KD: KidsAbility is an amazing organization that works to improve the lives of not only the children they serve, but also the families that support them.  The hearts of everyone on the KidsAbility team are dedicated to their work – this is obvious from the interactions between the families and their team.  We believe that by supporting children with special needs and their families, we can make a difference in their lives forever. We have raised over $1,000,000 over the past 31 years of this event!
RW: Why should the local running community be excited about this event?
KD: It's a light-hearted, fun event that allows you to come out and just enjoy running in a venue where the entire family is welcome.  Last year, we had participants from age 2 to 86.  Everyone enjoys the fun, food and fellowship of the day.  We also have lots of fun activities for the kids on site including face painting, bouncy castle, Erik Traplin show and more!
RW: Is anything changing about the event from 2017 to 2018?
KD: The addition of a 1km Family Walk, and the partnership with Run Waterloo, and a start-line Superhero group photo are all new for 2018.
RW: Who is Rotary Cambridge?
KD: Rotary Cambridge is comprised of 3 Rotary Clubs in Cambridge (Preston-Hespeler, North and Sunrise) working to raise funds and serve our community to have an impact in the areas of health, hunger and humanity.
RW: How does this event make sense as a new member of the Run Waterloo?
KD: This event is an established run in Cambridge – we have a loyal group of runners that come out and participate each year.  This is the same model that Run Waterloo operates on, and we feel that by working together we can build on the momentum that we have already established.
RW. We can't agree more!
More from Run Waterloo
In our mission to make running opportunities more and more accessible, and to break down silos in our community, we are very excited to bring another Cambridge event into the fold. This will be the first Hespeler event in Run Waterloo history.
Run Waterloo community members will be thrilled to add this "new" event to the fold. It adds a super dimension of fun and charity to an already great calendar, and comes with all the great benefits you know and love about Run Waterloo – member discounts, RW Results and free photos.
Learn more or register today.