How do you know it's fall? Denim and flannel. Baseball playoffs. Pumpkin spice. And of course, a fast course for the Fall 5 KM Classic.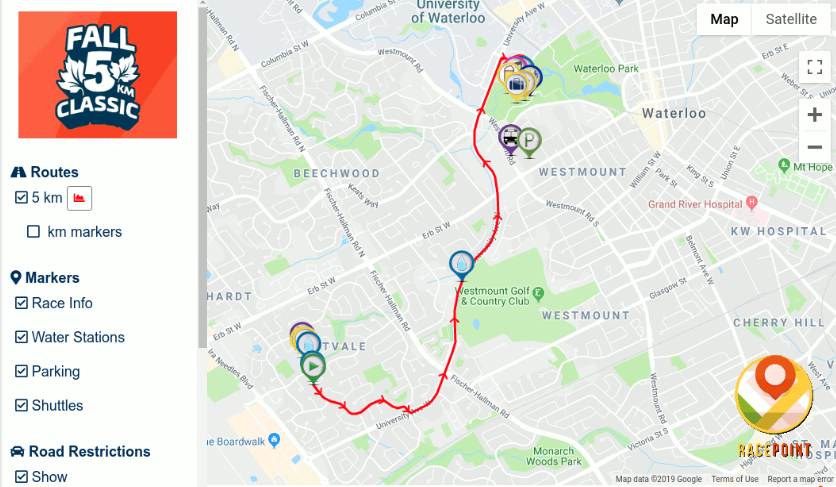 Click for the official interactive race map.
It's not an exaggeration to say that this course is the fastest 5k we know of. The point-to-point course has lots of consistent, gentle downhill – about 1m/100m for the 5k – and essentially four turns over the entire course.
Course elements that are new in 2019:
Finish in Waterloo Park, with a short (300m) section of wide trail leading to the finish.
Smooth course, with fewer turns than previous years
Road closure on University Ave for the middle 1.5k of the race – run those tangents!
Start slightly up the road from Westvale PS
Start time at 8:30 a.m.
No 10k
Improved communication with traffic and coordination with all municipal parties (check out the traffic disruption module on the race map)
A slick map from our friends at Race Point
Starting at Westvale School and finishing in Waterloo Park, this course has you running through thousands of trees in the early stages of their beautiful fall foliage.
We are super proud to launch this beauty of a course, in coordination with WRPS, WRPS Auxiliary, the City of Waterloo, and the Region of Waterloo.
Whether you are racing, or out for a fun run with Waterloo Brewing, sausage, and a live band at the finish, on October 6 … this course awaits!
Athletics Canada Course Certification No. ON-2019-034-PTBA
More Fall Classic:
Facebook Event | Strava Event | Race Website | Elite lineup next week