We are very excited to announce that the home for the 2017 Waterloo Classic is the Columbia Ice Fields at the University of Waterloo.
This will be a fantastic setting for the 40th Waterloo Classic on June 18. This brings back historic features of the race, and is also appropriate as the University of Waterloo is celebrating 60 Years of Innovation this year.
Course details
This certified 5k route starts on Frank Tompa Blvd, and runs clockwise along Hagey, Columbia, Westmount, Bearinger, Hagey, Frank Tompa. There is a turnaround in the final few hundred metres, and the 10k continues through the start line for a second loop, with 5k splits.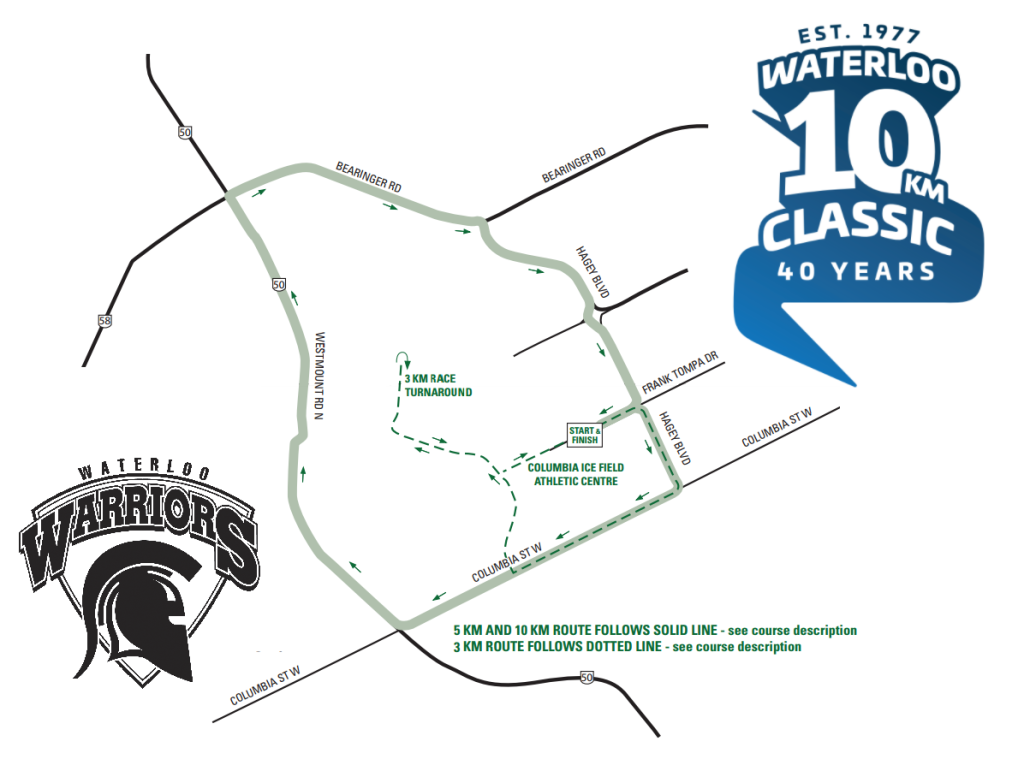 All of these courses are officially still subject to change. Please check the website for details.
Course history
The Waterloo Classic has run on several courses throughout the years, although this will be only the second year (with 2007) that this race will not finish on a track. We weigh the history of the event with the integrity of a good course, and this was not a decision we take lightly. With the LRT tracks, construction, and detour routes, it has been hard to find reasonable courses from University Stadium. After finishing on high school tracks for the past two years, we jumped at the opportunity to partner with the University of Waterloo this year.
This course will have a large space for Start/Finish, ample parking in Lot X, great course logistics for runners of varying speeds across different events. One of the features we are most excited about is that it brings back the epic downhill on Columbia towards Westmount. This was a staple of the race in the early 1980s (see photo at right) and we are very excited for its return in 2017.
More about this event
The 2017 event is June 18th. Full event details and registration. Over the past 39 years, this race has raised hundreds of thousands of dollars for local charities. This year is our first collaboration to raise funds for the University of Waterloo Women's Sport Initiative. Among highlights of this year's event are Waterloo Brewing beer for all finishers.