A challenge for YOU and a fundraiser for Run Waterloo. This is a fun, solo program to keep you active and motivated this fall!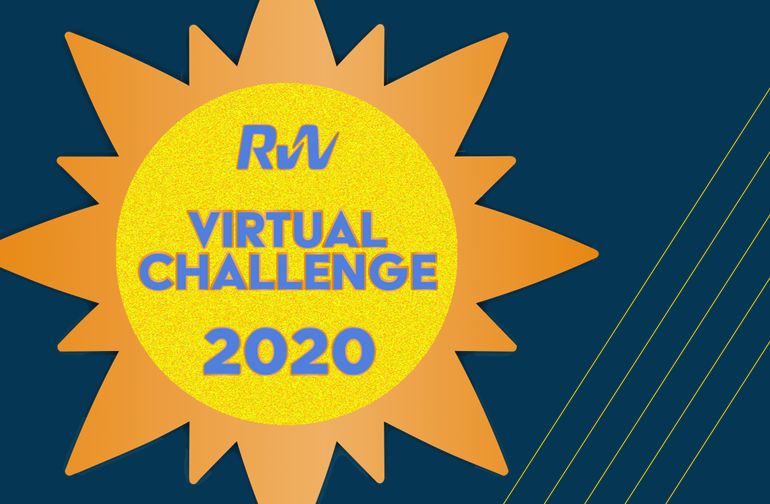 What is the RW Virtual Challenge?
This is a series of 12 individual challenges from September 1 to December 5, 2020. They vary in terms of timing, distance, dates, and other features such as the course. Some of the races even have everyone racing at the same time, to try to capture a "race" feel.
Runners and walkers can participate in as many of the challenges as they want – we recommend all 12! Participation in at least 8 of the 12 will earn the participant a glittery finisher medal (pictured above).
There is a little bit of work you have to do to participate! Look at all of the challenges, and then decide which you want to do, start thinking about courses and distances, and pencil them into your schedule. There is a cheat sheet at the bottom of this post. But don't wait – this starts on Tuesday, September 1 at noon, and the first challenge lasts only 36 hours!
Some (but not all) challenges will have results posted, and some (but not all) will even count for RW Results records. There will be no overall standings – this is an individual challenge for the entire community, not a competition. The events are designed to test you, but not compare you to others.
What are the 12 challenges?
Early Bird: This challenge can ONLY be completed within 36 hours of program launch. September 1-2
Double Dip: You run your course twice, two months apart, with the goal to better your time on the second run. You choose the distance, course features, and dates. One in September and one in November.
Trifecta: Triple down with this three-race mini-series, which must be completed in a 36 hour window. September 10-13.
Harvest Moon: A night race (choose 5 or 10k) on the evening of the fall equinox. September 22.
Lose the Goose: A mile race in Victoria Park, Kitchener, timed by Run Waterloo. You sign up for time slots. October 1-14.
Octo-berfest: A looped 8k race, any time during October. Could even be a figure-eight 🙂
Bubble Trouble: A run with your bubble. Minimum of 3 people running together, but it's a solo results (your bubble members don't need to be entered in the race). Thanksgiving weekend (Oct 9-12)
Fall Five: The fastest 5k you can find. October 23-25
Fail Trail: The point is to find a difficult trail; the harder, steeper, windier, rougher…the better. November 1-7
Closing Time: Everyone races this 5k or 10k on the same morning to finish the series. December 5
Better Half: Find a nice day, maybe a short taper, and test yourself to a solo half marathon. By November 30
Musagetes: We've measured out a simple out-and-back 5k on the Walter Bean Trail at the Musagetes trailhead. Go there at your convenience, to run and time yourself! By November 30
These challenges vary in letting you choose the distance, date, and course. Each has specific rules; more info and specific details below. Click for larger version.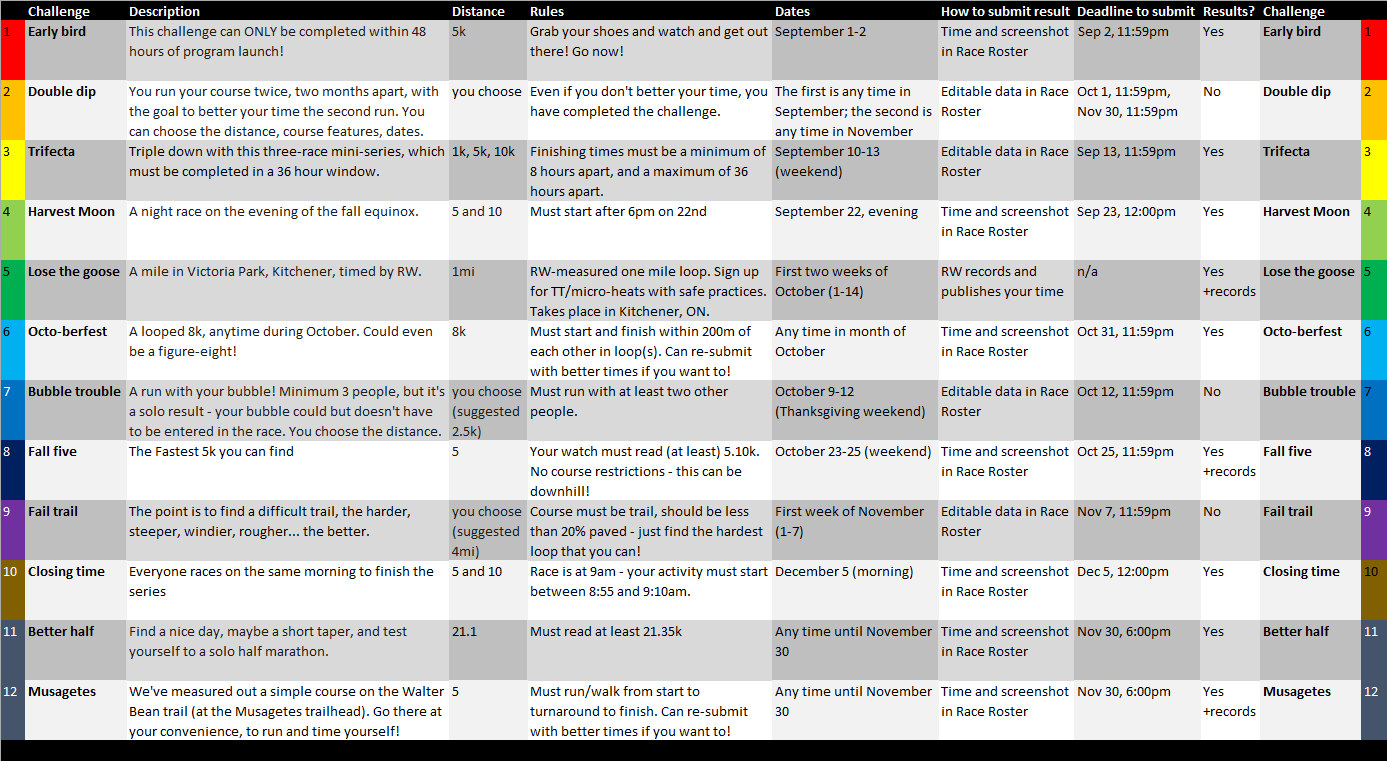 The challenges vary for different reasons. The first is just to inject some spontaneity to your schedule. The second is a personal benchmarking exercise. The third is a grind. The fourth gets everyone racing together on the same evening – crack a beer and join the facebook chat after. The fifth is the closest we can get to "normal" racing. Etc.
Why are we doing this?
We've spent much of the summer surveying runners, listening to you, and turning that overwhelming and creative feedback into inclusive strategies to keep runners motivated this fall. What resulted is a a three-pronged plan:
A free community-wide initiative: RW Every Single Street & Trail (now on!)
A fun, low-cost way to stay motivated through race-type concepts. This evolved into the RW Virtual Challenge.
An assortment of novel virtual race concepts, starting with Masks for Kenya, with more to be launched soon.
This is also a fundraiser for Run Waterloo. We are not a charity, but we are a non-profit that has operating costs and needs to begin revenue-generating activities again this fall.

More anticipated FAQs
Do you need a GPS device? Yes, a GPS watch or phone with an app such as Strava.
Do you need to live in Waterloo? No. Two of the challenges must take place in Waterloo Region, but the other 10 don't, and you only need to complete 8 challenges.
What is the minimum distance you can run? 2+2, 1.6, 2.5, 5×5 = 33.1k over 8 challenges over 15 weeks
What is the latest you can start? October 12, if you have a #5 Lose the Goose slot for the 12-14
When are the medals distributed? Your medal will be shipped or available for pickup from Runners' Choice within 2 days of your finishing and submitting your eighth challenge.
How many challenges am I supposed to do? The rule is at least 8. You can do more, and you can also do less – whatever is best for you. But it is designed to be 8+ and that is what earns the medal.
How do I submit my result? Rules vary for each challenge. Follow these links to learn how to submit results on Race Roster and how to submit editable data.
What are the courses? All your own courses, except for 5 (Lose the Goose) and 12 (Musagetes). Lose the Goose will be simply marked and explained on race day; Musagetes is spray painted on the trail, which is just finishing repaving as of September 1 (NOT available yet – we will update ASAP). The start is just east of the Musagetes Trailhead sign, and pedestrians have the right of way the whole time. Participants should study these maps and even scout out the courses if you feel that is useful to you.
What if I can't participate at the scheduled time? If you have a type of work that restricts your participation (eg. night shift on September 23), let us know and we can allow an exception.
This is way too complicated. Any help please? Here's a cheat sheet for you. This is great for a printer, if you have one!