What a beautiful morning for a fall classic run in Waterloo. We aren't shy about designing this course to be fast. Some kinks were added to the course this year due to construction, but we look forward to returning to faster course for 2017!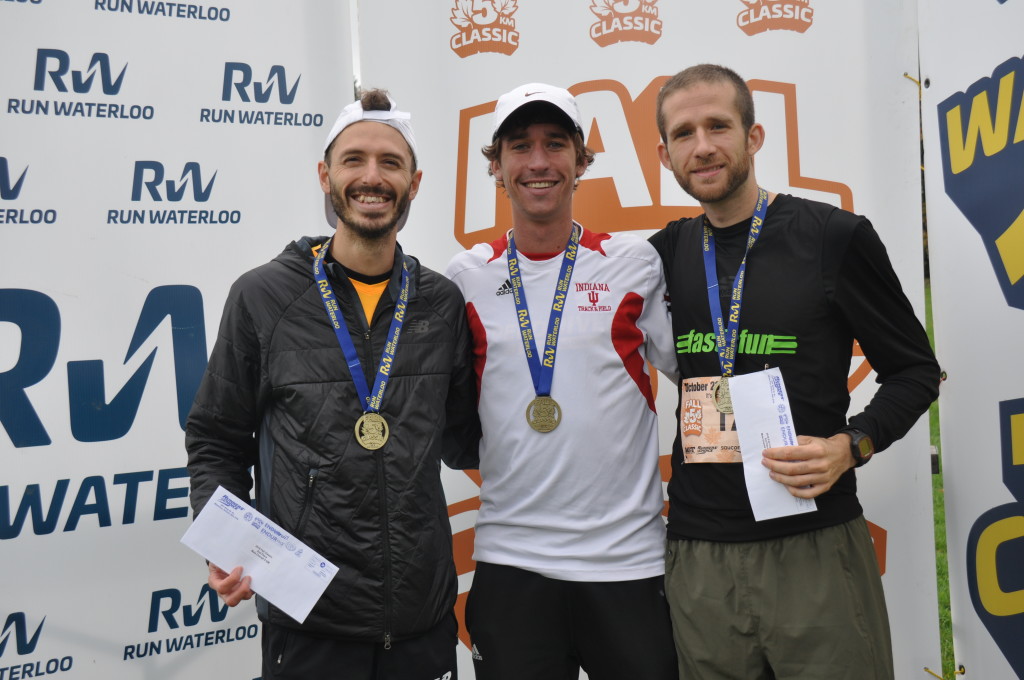 Results and Battle of Waterloo IV
In the featured 5k event, Evan Esselink crushed the event record in a time of 14:18 (previously 15:06, set in 2000 by Nathan Brannen). Alex Genest (14:43) and Adam Hortian (15:10) rounded out the top 3. For context, Adam's 3rd place time today ranks 5th all-time. Wow!
On the women's side, Erin McClure (16:50) ran the second fastest time ever at this race, and now owns the top three all time 5k results (with 1997 and 2014). Sarah Wismer (17:08) and Amanda McLeod (17:12) were not far behind in an outstanding top 3.
Top Masters are Jim Seeds (16:20) and Valery Hobson (19:51). The Fastisfun team led by Adam Hortian won the Open Division with an event-record time of 1:20:35 for five runners, for an average of 16:07!
The 5 KM also marked the third leg of the fourth Battle of Waterloo. John McLean and Emily Dodge continue to lead. The final leg of BOW IV is the 11 KM at RememberRun on November 5. See you all then for finishers' medals and a group picture!
The 10 KM saw great performances from winners Robert Brouillette (32:30) and Julie Hambleton (36:27). It's worth noting that although the Waterloo 10 KM Classic and the Fall 5 KM Classic have featured distances, Robert won the other distance in both races, finishing first in June in 16:02. Congratulations to all 10 KM participants today!
Photos
One thing you love about RunWaterloo events is the thousands of free photos that are posted to our Flickr gallery. Enjoy!
Downhill
Pays to smile 🙂
Fall colours
Outstanding performers
Social
Sponsors
Thank you to the sponsors that make this event happen. Their support of running is unmatched, and truly inspiring!