As our community grows, we try to feature a Run Waterloo member on the blog on a monthly basis. This month we have a long read from Carey Wood, whose journey to running has already been an inspiration for lots of runners. We're lucky to have Carey in our community and happy to share this story this month.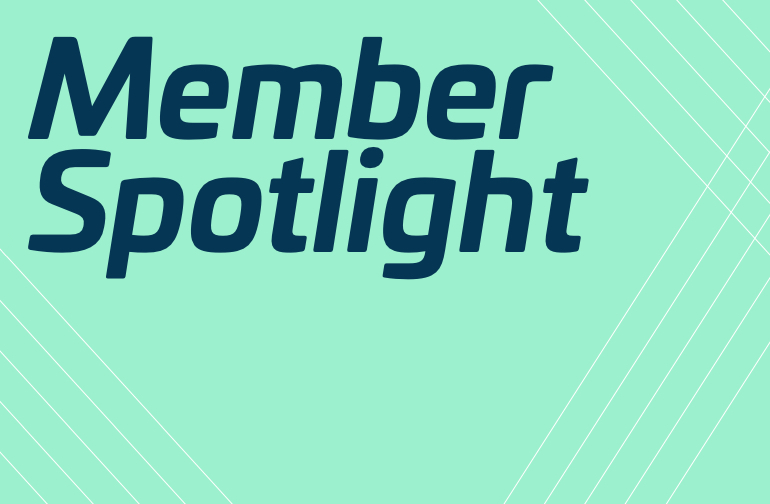 I am originally from Hanover, born and raised. The story starts with our moved out to PEI in January 2010. When asked where I am from I will now say PEI, as it is home where we still own 50 acres. We moved out there to farm, and follow our dreams. We grew 13 acres and had 9 green houses, pigs and hens. Life was great. We provided over 100 families with veggies a week, provided restaurants, worked with the Culinary institute of Canada and farm gate sales.
In 2014, Chef Michael Smith asked us come work for him. We hesitated. He had just bought and opened the Inn at Bay Fortune and was wanting a full farm to table experience. We worked night and day giving it our all. In January 2016, while we were still working with him, we were working on home renovations when I stepped off a chair (from the counter to the floor) and hurt my ankle.
…Backing up to 1996 though, it all makes sense: I had my first seizure and fell down a flight and a half of stairs at high school. Broke my ankle in 3 spots, shifting it out of place 1.5". I needed surgery for 9 screws and a steel plate larger than my hand. Since I had healed quickly, they removed everything in 1997 so it didn't cause more problems in life. This was a life changer. Between surgeries I wanted to get better. I started swimming before I could walk. I ran 1 season of cross country and hated it.
I wondered: why would someone run?
I didn't like track, or warmup for soccer or rugby either. I also got in mountain biking. I was competing in the O-cup series and was one of the top high school girls. An injury in 1998 almost ended that and then I moved to college and lost interest. So back to 2016…
The surgeon was going to do a full reconstruction of my ankle; it was a mess. I had a .5" gap between the bones with scar tissue, extra bone growth, arthritis (to the point they were discussing to fuse it) and bone fragment and other debris in it. It's January in PEI and I'm waiting in pain, no weight bearing until after surgery. By February it was worse. I had so much swelling and nerve damage which came quick from the nerve damage from the first 2 surgeries. I couldn't move, I slept on the couch so my foot didn't lean. I had to be waited on hand and foot, and it was during that time I realized how much people take mobility for granted. I would ask very little for help and would rather lie in misery than inconvenience someone. The chef during this time said don't work "I'll make sure things work out and you are taken care of, sell the farm" so we did. Part of it – the home farm. He bought most of the equipment, and couple greenhouses and was supplying us a cabin to live in for the season on site.
April came. Surgery time, and I was scared. Over the last four months I had become depressed. I gained weight. It was going to be a full day of surgery to get me ankle cleaned up, with another surgery to complete it 18 months later. I was so scared. I wanted just to walk. That morning the surgeon presented me with a choice between possibly never actually walking again on my own with the entire surgery, or amputation which was very high risk due to the nerve damage. So I opted for the scope of: clean up the debris in my ankle and come back in a couple months to finish the surgery.
After surgery was another couple weeks of no weight but I had to start with working on the nerve damage. This became a full family event. Tickling my foot, hot/cold shock treatment and everything else we could think of to help. We bought me a bike trainer. It took over a month to do 5 pedals/rotations on it, and slowly I could get some movement. By June I was weight bearing. September I was walking, and I continued to gain weight. I was at an all time low in my life. I had a loving and supportive husband and daughter and some great friends but we sold our main farm, living in a cabin, and I could barley move. I was missing out on so much of life. Epilepsy was already restricting what I could and couldn't do (eg. I couldn't go anywhere with flashing lights including cameras). So I couldn't attend school concerts, dance recitals and even going shopping was difficult during the holiday season.
In January 2017 I decided I wanted to take control. I signed up for a gym membership and attended classes. I had an amazing coach that gave me everything modified. I couldn't do stairs yet. Through an amazing gym and great coaches I slowly improved. I wasn't losing weight. I went for tests and discovered I was insulin resistant as well which was likely brought on my the lack of mobility over the last year. The surgeon said I couldn't do any more to my ankle and to "pound the shit out of it" until it's time for the full surgery. In February 2017 it was suggested I reduce my carb intake. I went to the extreme and started Keto. Keto was developing in the early 1900's for epilepsy and is now the new fad diet. I wasn't doing it just for losing weight.
Finally things started to change.
In August 2017 we decided we needed a break from PEI. Headed to Ontario for my sisters wedding, and decided since we were just renting we would move back for a few months and decide what life we wanted. My parents were shocked. We moved in with them in Hanover while we got our feet under us. It had been a rough few months working for the chef – and rough is really an understatement. We had booked a family vacation for Florida early that year for October. We were looking forward to a much needed family vacation. My older sister decided she wanted to run a 5k beer run in Hanover and wanted someone to run with her. Somehow I was roped into this even though I hadn't run since high school. (It was more of a walk.) Then her friends wanted to create a team for ATB, so she signed me up. It was November and I wasn't sure what I had gotten myself into. I was signed up for a 15k run in March.
But let's back up to October and this trip to Florida. Mom went into cardiac arrest the Friday evening and never made it. We had to postpone the trip we were going to leave for on the Saturday. We spent days at the hospital. During the move from Ontario, I knew there was something bringing us home… and I think I learned why. With living with dad we were there for him. We booked the holiday for over Christmas that year after everything had happened. I started running at this time. I discovered it helped me relive the everyday stress and gave me the alone time I needed. I ran in Florida on our vacation and wanted to do more. ATB was creeping up on me and I wasn't prepared, so I googled races and came across Run Waterloo and thought if I can run the Re-Fridgee-Eighter I would be set. So I signed up for my first race – 8 miles – and I trained and much as I could.
My IT band was always bothering me due to overcompensation from the extra load of being on crutches. ATB came and even though it went much better than I had expected, I said at the time that I would never run again.
I almost quit.
By late March we had moved to Cambridge, and I was still working at it. In May I ran Cambridge Mill and hated it. I couldn't stand the Ontario heat and humidity. My husband and daughter were there; Olivia ran the relay with a friend and then met me and ran with me the last hill. That's where I met Maria Michel, who also joined me at the end. I don't know why Maria added me to the Running Rarebits, because I was done running. And that was all I ran for 2018.
I stayed part of the Rarebits Facebook group, but felt like I didn't belong – especially during ENDURrun. Some members were running amazing times and distances. Then at Christmas, Gary Clift was organizing the Gingerbread 5km fun run. I said let's give it a try. It was a night run, and I didn't know anyone. Everyone had been purchasing the vests with flashing lights or had flashing lights for safety. I had sent a message to ask if they could all be left as solid and not flashing for the duration of the run. This was going to be my deciding point if I stayed a Rarebit. A message was sent, an announcement was made. I was shocked. Nothing said it was me. It was fun. I met some new people but didn't stay long afterwards as I had company for the holidays and felt out of place. And that's when I decided to run again. I started following the group more, found a partner whom I had never met before to run ATB with me, signed up for the Re-Fridgee-Eighter again, and the Dion Snow shoe race. I was settling into Ontario and now needed to discover myself. I started meeting more and more Rarebits, going out of my comfort zone time and time again.
Shortly after that I had signed up for the 2019 Pelee Half. What was I thinking? But I knew I was determined and I set my mind to it, working with the Rarebits for motivation and accommodations. I ran my first half and decided I didn't like to run in the heat. During this time I was eyeing other halfs as well as guest run for ENDURrun.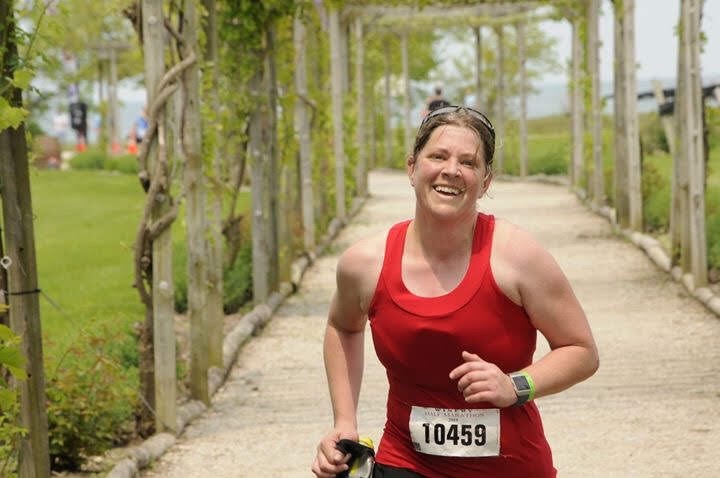 At this time, my husband was a full time student and working weekends so he couldn't attend anything. He was supportive as I purchasing new shoes and gear. Our daughter got involved in volunteering to help out as well. [Thanks from Run Waterloo too!] I find Run Waterloo very community-oriented and always lots of cheering and support. I love the atmosphere. I was on the Rarebits ENDURrun relay team, but I was so nervous as my first half I was only 2 minutes under the ENDURrun cutoff…
The Rarebits had my back and my husband was there to volunteer as well. As the day came, I wanted to back out, but I completed it and took 20 minutes off my time from 9 weeks prior. [Epic finish line footage below.]
I know this is the start of pushing my limits. I feel included and supportive as a Rarebit. I know this is only the beginning (God willing) until my ankle screams to quit. I am hesitant to run on trails that I may roll my ankle but am building the confidence quickly. I love how much community is here for running. I now have my running family. They mean so much to me and make it fun.
I am grateful for all the volunteers that make each event possible, whether it's just a fun run or an organized week long run. They have helped me discover who I am and help me to continue to push my limits and set my goals. I have signed up for the ATB clinic and am planning on the full 30km in 2020. And plan to head to PEI for the PEI marathon in October. I am also wanting to attempt the ENDURrun in 2022! I am now looking into more training. I have come this far on my own determination but I want to go further.
Don't ever give up.
When I was told I couldn't, it made me determined to prove them wrong – and I think I have. And I will continue to push until I physically can't. Don't give up on yourself. Do it for you!
Running helps clears my head, and burns my unbelievable amount of energy I now have. On any stressful day I run for my mental health as well and physical. If I can do it anyone can. If I often say "God gave me 2 working feet, and I'm going to use them" and I do.
We still own the land in PEI. With high bush, wild blueberries and an apple orchard, it was purchased as a retirement property so we do plan on moving back. Waterloo Region is slowly becoming my home, and the running community is my family. It will make it hard to move back to PEI. Jeff and Olivia need to graduate first – Olivia highschool In 2022 Jeff gets his accounting degree December 2022.
Thank you Carey for sharing this personal journey. It is a valuable testament to many qualities that we admire in runners, and will surely help others. We'll be seeing lots of Carey and the Running Rarebits this fall, starting at this weekend's Harvest Half and of course at the Fall 5 KM Classic.