Promo code is BLUETUESDAY
You don't have to look too far to find sales this time of year, be they black, cyber, or prime. Here's our own made-in-Run-Waterloo bonanza: the 2020 calendar launch. Welcome to Blue Tuesday.
What: The lowest price you will ever pay, all year. 10% off the early bird prices for every race (more details below). Plus way more.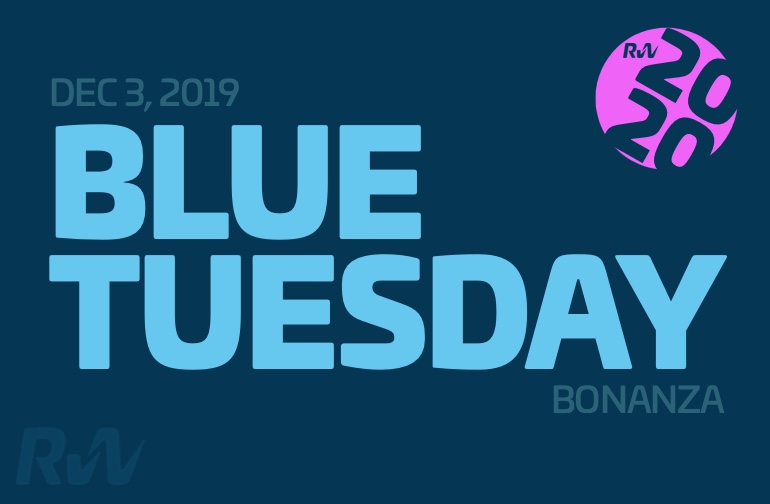 When: Tuesday, December 3, 2019 from 12:00 a.m. to 11:59 p.m.
Where: runwaterloo.com
Why: Just for run fun. And savings. Lots of savings. Some fundraising. And prizes. But mostly savings.
What do I need to do? Three simple steps:
Take a look at the 2020 calendar, and think big.
This promo stacks with the RW membership discount and partner discounts (15% total), so make sure to get organized to save the most. A RW member who is a partner member saves 35% on Blue Tuesday!
Set a reminder for December 3 – join the facebook event. A promo code will be posted in the facebook event on December 2.
Prizes you say? LOTS of prizes. Draws for free entries, memberships, cash, merchandise and swag:
Every entry will earn one ballot for:

A complete refunds of that person's entire day's personal race purchases
A $100 cash prize

Every Re-Fridgee-Eighter entry will earn one ballot for:

A rebate of the entry fee
A free entry for a friend

Every 2020 RW member who signs up for three races earns one ballot for:
Facebook event attendees earn one ballot for:

One of three single race refunds (their most expensive of the day)
One of two free 2020 memberships from My Next KW Race (separate contest rules here)
Deadline for entry is December 3 at 11:59 p.m. Individuals can win multiple prizes. Winners will be announced on December 4. Entries are not refundable or deferrable.
Of course, the more races you sign up for, the more chance you have of winning. Some races are a slam dunk. (Which aren't?) However, we know that signing up early is not in everyone's interest, which is why the membership and partner discounts are flexible all year long.
And just to top it off, we are going to put $1 for every Run Pure race registration into our upcoming 2020 charity challenge. Stay tuned for more details on that 🙂
See you on Blue Tuesday!
This was originally published on November 28, 2019 and re-published on December 3, 2019.