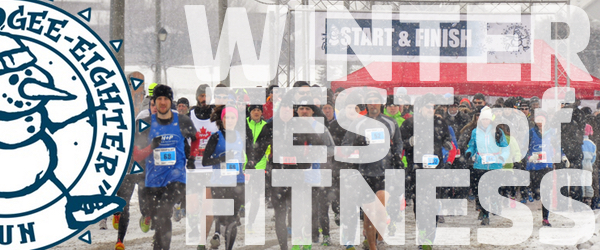 #ReFridgee8er is a road race in Waterloo, Ontario that marks the beginning of the annual Run Waterloo racing calendar. This annual event offers runners an opportunity to test their fitness after a winter of rest or training, and the 8 Mile event is one of the grand slam of oddball distance events as runners train for spring races. Since 1998, this race strives to maintain a community-focused and family-friendly environment, open to everyone.
2021 will be the 24th annual.

For more information about this race, contact Lloyd Schmidt, Race Director.

Event categories and awards
Individual event categories
One per participant
8 KM and 8 MI – Up to age 19 | 20 – 29 | 30 – 39 | 40 – 49 | 50 – 59 | 60 – 69 | 70+ | Weight F160+ / M190+lbs
3 KM – Up to age 12 | 13 – 15 | 16 – 19 | 20 – 29 | 30 – 39 | 40 – 49 | 50 – 59 | 60 – 69 | 70+ | Weight F160+ / M190+lbs
Team event categories
Not limited to one per participant. Teams only include participants of the same timed event.

Parent/Child (2 person team)
Sweethearts (2 person team)
Open (min 5 person team)
Awards
In every timed event, without duplication, recognition goes as follows:

Individual award medals
To the top three overall, then to the top three masters, then to the top three in each event category.

Team award medals
To the first place team in each team category.
All unclaimed medals will be available for pickup at Runners' Choice any time from Tuesday, February 11, to Wednesday, March 11, 2020.
Prize money
8 Mile, Men and Women: 1st – $100 | 2nd – $75 | 3rd – $50 | 1st Master – $75
8 Mile, Open Team: 1st – $100 (minimum 5 eligible teams in the official results)
8 Kilometre, Men and Women: 1st – $75 | 2nd – $50 | 3rd – $40 | 1st Master – $50
Note: Prize money distribution will differ from medal distribution in cases where the Overall placing priority reduces prize money earned for a faster runner (eg. if a Master is 3rd Overall, they would receive 1st Master money, and 4th Overall would receive 3rd Overall money).
Course maps
Here are the 2020 courses. Note the 3k starts at 11:00.
Gmaps: 8 MI | 8 KM | 3 KM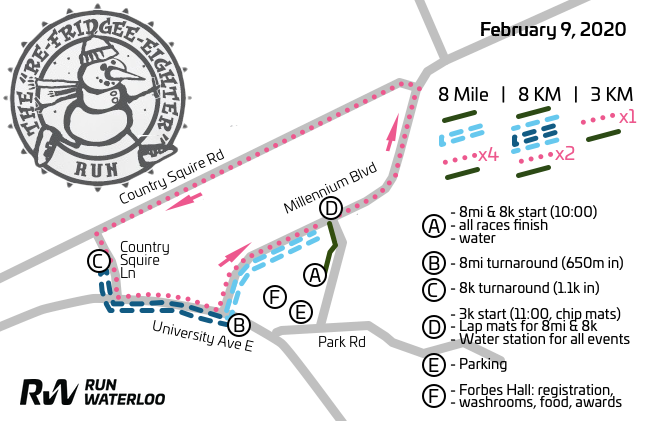 Course Rules
Water Stations: 8 MI: 3. 8 KM: 2. 3 KM: 0.
It is every participant's responsibility to know the course and the race assumes no responsibility for any missed turns. Each turn will be marshaled and signed. Courses are pending approval and may change with municipal needs.
Time limit: 10 minutes per kilometer for the 8 MI. Starting at the half way mark, if a participant does not reach a km mark by this calculated time, the participant will be asked to move to the sidewalk and finish the race as a pedestrian, unassisted by race support. Participants are asked to familiarize themselves with the course route if this situation might be a possibility to them. We wish to minimize traffic disruption caused by our event, and value the support of Police services regarding participant safety.
Participant swag
All finishers of all events receive this finisher medal.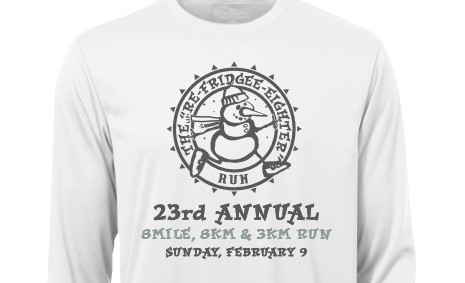 Every participant that signs up by February 2nd at midnight will receive a t-shirt in their selected size. When choosing a t-shirt, consult this guide.
Race weekend info
In Forbes Hall you will find a bag check.
Post-race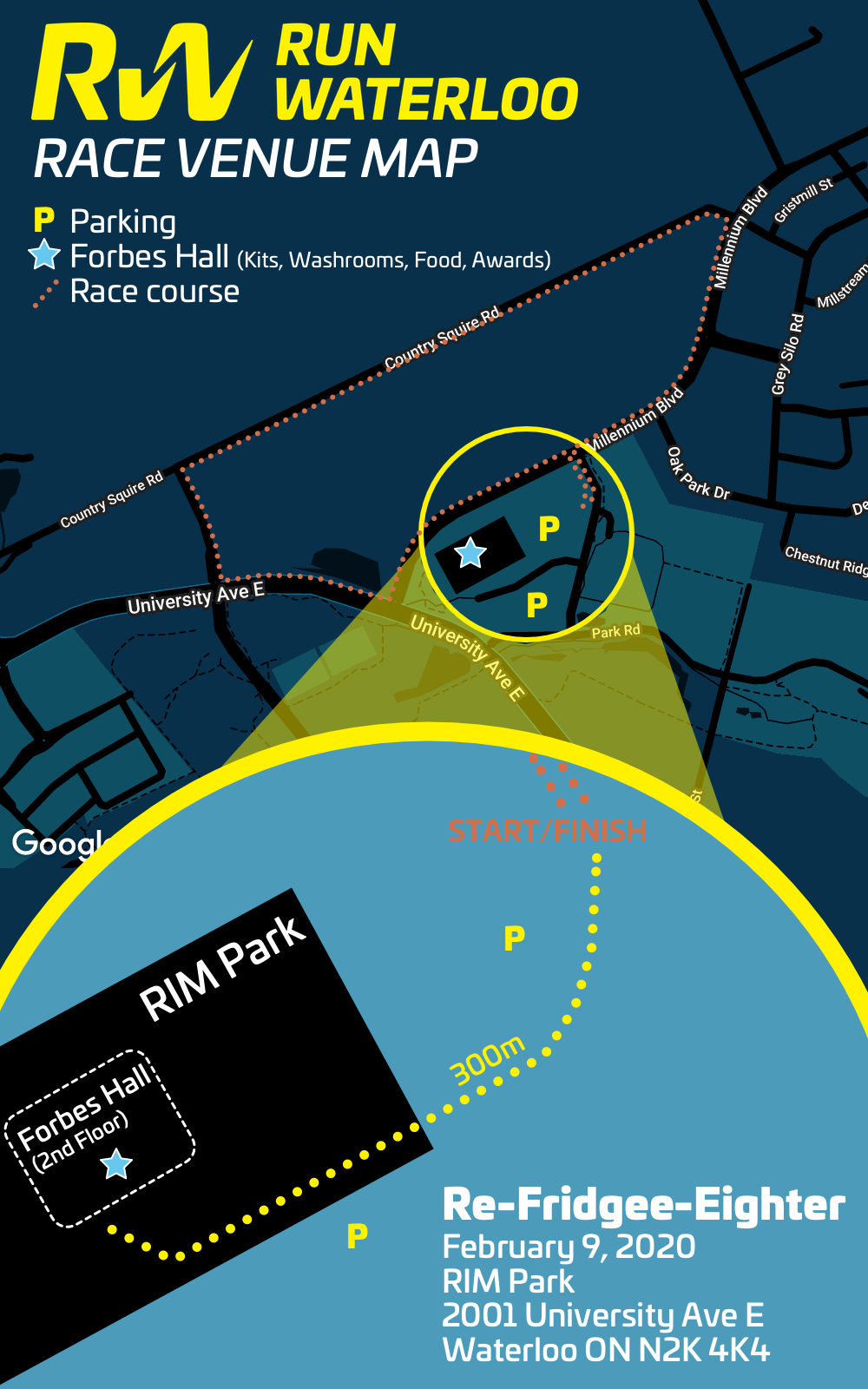 Enjoy camaraderie, hot food, hot chocolate, ice cream, and great a t-shirt design quilt. Winner must be present to claim.
Registration and kit pickup
Registration
Online through Race Roster. Paper forms are available only at Runners' Choice, 55 Erb. St. E. Waterloo, and are accepted until the race sells out or February 4, 2020 at 7:00 p.m., whichever happens first.
No refunds or deferrals. Entries can be transferred through Race Roster for a $7.50 early transfer fee until the transfer deadline of January 26 at midnight, at which point they can be transferred only in person at kit pickup for a $15.00 late transfer fee.
Kit pickups and race weekend registration
Saturday, February 8: kit pickup at Runners' Choice 11:00 a.m. – 1:00 p.m.
Sunday, February 9: kit pickup at RIM Park Forbes Hall 8:00 a.m. – 9:30 a.m.
Accessibility info
Run Waterloo would like to assist in breaking down barriers faced by runners with disabilities. In 2019, we created the position of Accessibility Coordinator, who will answer your questions regarding assistance, accommodations, and venue and course information. Contact Deirdre at [email protected].
We offer discounts for any guide runners. Please contact our accessibility coordinator at this email address for further information.
Elite info
At Run Waterloo, we value elite and sub-elite athletes that contribute to strong fields. There are a limited number of elite entry spots available for this race. Contact [email protected] to learn more about our entry standards.
Note: deadline for elite entry to this race is February 2, 2020.
Photos

Run Waterloo events include hundreds or thousands of photos posted to our Flickr page, all free for download and use. They are also tagged directly to the results.
Race history

The Fridgee-Eighter was a popular road race from the late 1970's to 1986 which ran out of the old YMCA on Lincoln Road in Waterloo. It consisted of one event, an 8 mile race that drew a competitive field and attracted elite runners from all over Ontario. In years of good weather, the winning time was sometimes below 40:00. (Do you have results? Please share!) This race ceased after 1986 when the organizing track club, the WCAAA, folded.
Run Waterloo responded to great community interest by bringing this event back in 1998. After seven years as an 8 kilometre event only, the historic 8 mile event was re-introduced in 2005. In its current form, this race formerly started at Federation Hall before finding its current home at RIM Park.
Results and records