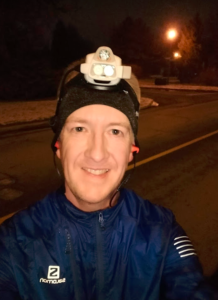 Almost four months ago, Cory George embarked on a project called #EverySingleStreet where he is quite literally running all of Waterloo.
We thought this was the perfect training motivation to share as we are coming out of a long winter and had a chance to ask him about this incredible project.
1. Tell me a little bit about your #everysinglestreet project. How long have you been tackling the challenge?
I am trying to run every single street in the city of Waterloo. I limit this to named streets only as there are a lot of unnamed service and private roads around larger businesses and some of the denser housing (townhouse and apartment complexes). Some of the unnamed roads aren't feasible and are possibly illegal for me to run on, so I decided to exclude them all. My first run was on November 19 and I've averaged 3-4 runs per week since then.
2. What made you decide to take it on? Where did you get the idea from?
The #everysinglestreet concept came from American ultra runner,
Rickey Gates.
Early in 2017, he had a project to run self-supported across the continental United States, which he accomplished in 5 months. His big project in 2018 was to run every single street in San Francisco. He had a defined timeline and substantially more mileage, finishing the 1200+ miles in around 40 days, but hit a lull in mid-November and invited his social media followers to join in from their own home towns. I generally hibernate after the
Santa Pur-suit
and found this concept really intriguing and surprisingly motivating, which has kept me engaged for the past 3 months.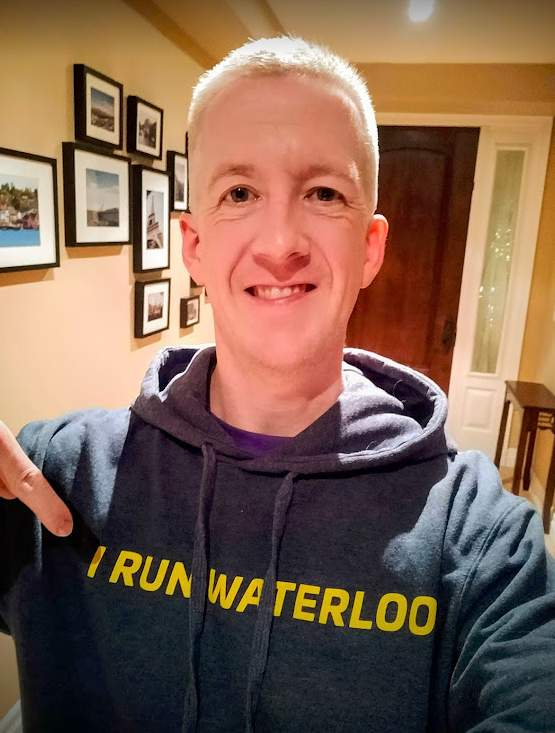 When we designed this hoodie last winter, little did we know that it would be taken literally.
3. Do you have a completion timeline?
I haven't set myself a hard deadline because I have no idea what the total distance is and setting an unrealistic goal could be really demoralizing. As long as I keep making progress every week by exploring our amazing city I'm happy.
4. What has been your most memorable experience in the challenge so far?
Aside from all of the Little Libraries I've come across (72 so far), no single experience stands out, but rather the way the project as a whole has shifted my current perception towards running. I've lived in the same corner of Waterloo for the last 18 years so even though I've only been running since 2012, all of my normal training routes are very familiar and occasionally boring. This project forced me out of my normal neighbourhood routes, but more importantly got me to stop looking at the numbers on my watch in favour of my urban surroundings and what makes each street, each neighbourhood, and the city of Waterloo as a whole unique. I think not having a definite timeline helps with this a lot, but so does taking lots of pictures to document all of the quirky, mundane, and beautiful aspects of daily life in Waterloo.
5. What makes running Waterloo special for you?
As Rickey Gates wrote on his website about his
Every Single Street project
, "To walk across a place is to truly know a place." I moved to Waterloo from Saskatchewan in 1996 to attend the University of Waterloo so I have 20+ years of memories scattered across the city that I get relive as I'm running these streets. On the flip side of that, in all my time here there are so many streets that I've never driven on, let alone set foot on, and I'm enjoying the opportunity to get to know this great city even better.
6. What is your next Run Waterloo race?
At the start of the year I signed up for the
Re-Fridgee-Eighter
 and the
RememberRun
as those are two of my can't miss races every year. The Re-Fridgee-Eighter was my first ever race in 2013 and the RememberRun helps me to honour my great uncle who was a casualty in WWII. I fill in the rest of my race calendar throughout the year as my kids' sports and activity schedules become available.
7. Tell us more about this project…how does it work? What else have you learned?
A couple of things. First, route planning and navigation is hard! Figuring out efficient routes that minimize overlap and backtracking is a math field unto itself so sometimes my route planning takes longer than the actual run, which is something that I won't miss when this project is complete. I was fortunate enough to connect with
Rhonda-Marie Parke
through this project and she put me onto
RunGo
, which is an app that she used when navigating the Vol State 500k last summer. That app has been an invaluable tool to me. My second addition is something that I noticed after meeting with Rhonda early on in my project: Waterloo is a wonderful city to live in, but we're still a very car-centric city. There are so many roads with no sidewalk, poor lighting, no shoulder, or any other myriad of impediments to any type of non-vehicular traffic. As runners I'm sure we've all had close calls with vehicles, poor intersections, uncleared sidewalks or some other unsettling challenge, so I can't imagine how much more difficult it is for the other-abled athletes and citizens in our city and region. For that reason I'm going to work together with Rhonda to more fully map every single urban trail in KW with a focus on accessibility as my next project. Stay tuned for #everysingletrail!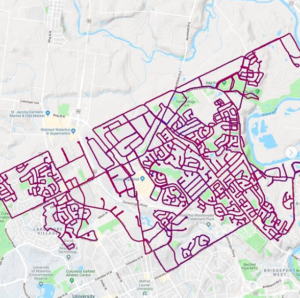 Stats as of February 21:
94 days
44 main runs (50 if you include smaller outings where I had to pick-up streets I had missed earlier)
485.55 km
44:42:40 running time
517,177 steps
Member spotlight
We are renewing our publishing of blogs featuring our hundreds of members. Stay tuned for more, or submit one for someone with a great story. It could be you!